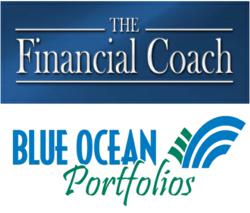 Retail customers should not have to parse through legal distinctions to determine whether the advice they receive is provided in accordance with their expectations or not.
St. Louis, MO (PRWEB) September 27, 2011
James A. Winkelmann, co-founder of Blue Ocean Portfolios and co-host on The Financial Coach Show with Bryan Binkholder, a weekly syndicated radio broadcast originating out of St. Louis, Missouri, has been awarded the title of Registered Fiduciary™ (RF) through DALBAR, Inc. This designation unmistakably identifies financial advisors who commit in writing to act as fiduciaries and have the superior training, experience, and skills required to perform at the highest standard of fiduciary care. Registered Fiduciary™ is regarded as the benchmark among fiduciaries.
Registered Fiduciary Advisor Designation Explained
Also known as the 401k RFTM, the purpose of the designation is to comply with the eminent Department of Labor regulations in the area of investment advice and proposed full fee disclosure regulations which will eventually exclude non-fiduciaries from even providing incidental or occasional advice.
According to DALBAR's president, Louis S. Harvey, "The new DOL regulations will make it increasingly difficult for non-fiduciary advisors to provide valued services to 401k plans. Investment advice will soon be the exclusive domain of fiduciaries, with the RFTM as the mark of distinction among fiduciaries."
About DALBAR
DALBAR, Inc. is the financial community's leading independent expert for evaluating, auditing and rating business practices, customer performance, product quality and service. Launched in 1976, DALBAR has earned the recognition for consistent and unbiased evaluations of investment companies, registered investment advisers, insurance companies, broker/dealers, retirement plan providers and financial professionals. DALBAR awards are recognized as marks of excellence in the financial community.
The Significance of Fiduciary Qualifications
Recent campaigns, such as the FPA Experience 2011, have aimed to raise public awareness regarding the clear, and often alarming differences between Registered Investment Advisors and those with titles such as financial planners and wealth managers. While Registered Investment Advisors are held to a strict and legally binding fiduciary standard of care, financial advisors and broker-dealers are currently only required by law to adhere to a suitability standard.
Bryan Binkholder, The Financial Coach noted, "The gap between the two positions has been a constant source of confusion for investors seeking financial advice from advisors, blindly believing their best interests were being placed first. Not only are non-fiduciaries held to a lower standard of diligence on behalf of their clients, but they are actually required by federal law to act in the best interest of their employer, not their clients."
Dividing Lines Are Being Drawn
This past January, the Study on Investment Advisers and Broker-Dealers was released by the Securities and Exchange Commission (SEC). This 208-page document spells out the clear need for a uniform standard that all advisors must adhere to. According to the study, "Retail customers should not have to parse through legal distinctions to determine whether the advice they receive is provided in accordance with their expectations or not."
The study provided by the SEC may be necessary, but as Bryan Binkholder, The Financial Coach points out, "Those in the financial services industry have long been aware of the need for a uniform fiduciary standard and this study is merely a first step in the process. There is a long, long road ahead. Instead of waiting for laws governing financial advisors to change, smart and responsible Registered Investment Advisors are creating an even wider gap between fiduciary and non-fiduciary roles by completing requirements necessary to showcase their commitment to the public. Becoming a Registered Fiduciary through DALBAR sends a powerful message to clients that there is integrity, transparency, and those with clearly defined client commitments in the financial services industry."
When asked about the Registered Fiduciary title and how it will further set Blue Ocean Portfolios apart, Jim Winkelmann said, "Public concern over scandals and financial excesses in the industry are at an all time high, and rightly so. I chose to pursue Registered Fiduciary Designation as a means to provide further validation to the public that we are fiduciaries. Unlike the vast majority of wealth management companies that hold themselves to a suitability standard we, at Blue Ocean Portfolios, at all times put our clients' interest first. This independent designation is just another step in the right direction to confirm what we've stood for all along."
For more information about prudent financial planning and sound investment advice, check out 7 Deadly Traps of Investing and 6 Pitfalls of Retirement Planning. Both are free of charge and filled with well grounded information designed to help both the new and seasoned investor recognize the scams, conflicts of interest, and risky investment strategies to avoid. Also, look for Bryan Binkholder and Jim Winkelmann's upcoming book, 401k Conspiracy: How Companies & Employees are Being Robbed by Wall Street, While the Government Looks the Other Way.
Contact:
Bryan Binkholder
bryan(at)TheFinancialCoach(dot)com
1-800-449-2237
16020 Swingley Ridge
Suite 360-A
Chesterfield, MO 63017
###