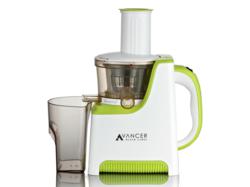 (PRWEB) September 29, 2011
Fruits and vegetables are two of the most essential food groups that people are strongly recommended to consume. They are full of essential vitamins, nutrients and minerals important to the health and strength of the body. One way to get the much needed dose of fruits and vegetables is through juicing.
Avancer is committed to finding new and innovative ways of doing everything to ensure the continual advancement of technology and society. Whilst there are many blenders and juicers in the market already, the problem with these items is that they use blades and high-speed mechanisms to extract the juice. The heat generated by such a method causes the denaturing of the enzymes in the fruit and thus actually reduces the nutritional content of the fruit or vegetable being juiced.
Revolutionized Juicing
The Avancer Black Label Slow Juicer is the latest addition to the juicing family. The Avancer Black Label Slow Juicer extracts the juice using condensing screws. The vegetable or fruit piece is fed into the juice and the screws reduce the gap between their tips to squeeze it in.
Using this cold-press mechanism, the pieces inside get squeezed to the extract every drop of juice possible. A different duct is allotted to where the pulp is driven out. With the Avancer Black Label Slow Juicer, people can product pulp-free and smooth drinks complete with essential vitamins and minerals.
Getting the best Juicing Experience
The Avancer Black Label Slow Juicer promises an exceptional juicing experience. The slow juicing mechanism ensures the maximum juice is delivered from each piece of fruit and that the nutritional content of the fruit is maximized.
The Avancer Black Label Slow Juicer is available at a market leading price of only $299 including free delivery Australia wide. Units are expected to ship in mid-November and a special $50 discount applies for customers who purchase during the manufacture and shipping stages.
About Avancer:
Avancer Home Appliances' business philosophy is simple – Provide high quality goods using an efficient distribution model with a focus on developing a trustworthy and truthful relationship to build up good will with our customers. Avancer products are available direct to customers at http://www.avancer.com.au
For further information please contact sales(at)avancer(dot)com(dot)au
###