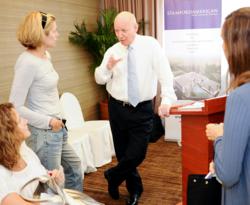 "The combination of the IB and American standards is ideal for a future workforce; a work force that will need the ability to understand the value of different pieces of knowledge and how that knowledge can be used to create and innovate."
Singapore (PRWEB) September 28, 2011
Stamford American International School (Stamford) Superintendent Malcolm Kay shared some of his more than 30 years of experience in education with the crowd at the American Club on Tuesday afternoon. The event was hosted by the American Association of Singapore and called on Mr. Kay, as the most experienced IB educator in Singapore, to discuss the International Baccalaureate Program and its application within an American framework.
To open the discussion, Mr. Kay shared an overview of the IB program and how it differs from traditional learning. While many government-led educational standards hold onto the traditional learning methodologies that have existed for hundreds of years and focus on presentation and memorization of facts, the IB program has the independence to prepare students through inquiry-based skill building to use information and to create new information. The IB program doesn't structure learning through subject areas but rather uses trans-disciplinary themes integrated with subject-based standards to drive student progress. Mr. Kay says that through this students are able to "learn more, remember more, and create better skills because when students link information together it's more likely that they will use it." The IB model creates a challenging and relevant program which "colleges and universities around the world prefer more than any other program because of the way students are trained – to develop the higher order thinking skills of analysis, evaluation and synthesis."
Through almost 30 years of working with the IB program, it is clear that Mr. Kay supports the framework and believes in its value but he also defends the strength and relevance of the US curriculum standards. Mr. Kay shared that in the changing and flattening of the world, the US standards alone will not give competitive advantage, but they are a rigorous and relevant framework. Stamford uses the most rigorous state standards which align favorably when compared against key international standards. As the US remains the leading global economic driver, Mr. Kay believes that this is the best program for international education but rigorous standards are only enough to "level the playing field" not to provide the edge that students will need to succeed in a world where up to 80% of the jobs of 2020 don't currently exist.
The goal of education according to Mr. Kay is to "make people successful in life" and in our changing world this requires an edge in the global competition for employment. The key competitive advantage of the IB program is that it develops higher order thinking skills that can be used in any number of real world applications. Mr. Kay said, "The combination of the IB and American standards is ideal for a future workforce; a work force that will need self motivation, flexibility and the ability to understand the value of different pieces of knowledge and how that knowledge can be used to create and innovate."
Mr. Kay also talked about how the economic balance of the world has shifted. Countries that have traditionally had global influence in world markets have accumulated high levels of debt and have depleted foreign currency reserves, whereas other countries, particularly in Asia, are becoming significant engines of the world economy. Unemployment levels have not been easily addressed because of the inability of traditionally strong countries to provide the necessary economic stimulus, while job opportunities can be found in the quickly emerging economies of Asia. The world our children will be faced with when they graduate will be different from the one we see today but there will be similar challenges.
The IB focus on inquiry-based learning, of creating questions and constructing solutions, builds inquiring minds and creative problem solvers. In a future workforce, when entrepreneurial competence will provide a competitive advantage, it is reasonable to conclude that rigorous inquiry based learning will provide relevance for students' futures. Today's education has to prepare students with an edge for them to succeed. Those who are educated with inquiring minds and have the ability to create questions and construct solutions will have a great advantage over those that have followed a more traditional approach to knowledge acquisition and application.
Mr. Kay made the case that there has never been a more urgent time for making good choices in education. He said, "The International Baccalaureate programs, Primary Years, Middle Years and Diploma are highly regarded for good reason. The skills they develop and reinforce are extremely relevant in today's society. Coupled with strong curriculum standards, these programs represent an option that will not only give students a competitive advantage for university entrance but more importantly a strong foundation for success in an ever more demanding world economy."
ABOUT STAMFORD AMERICAN INTERNATIONAL SCHOOL
Stamford American International School offers a rigorous IB Program* enhanced by American academic standards. Stamford offers daily Mandarin and Spanish instruction and focus on building comfort with technology with a 1to1 netbook program and iPad Program. Stamford will move to a new, state-of-the-art campus in August 2012. The campus will house a Library Media Center with global video-conferencing, an interactive Science Center, and top-of-the-line athletics facilities. The purpose-designed facilities will be across from the Woodleigh MRT at 279 Upper Serangoon Road.
ABOUT MALCOLM KAY
Mr. Kay began his career in Geneva, Switzerland at a founding IB school. He then took a leadership position at ACS International Schools (ACS) in London and spent the next 27 years crafting the school into the world-renowned academic institution that it is today. As Superintendent of ACS International Schools for 15 years before joining Stamford, Mr. Kay provided educational leadership for over 2,600 students and 400 staff.
###