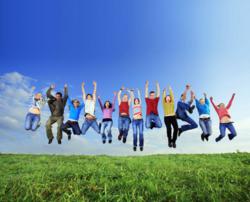 With 510 million people casual gaming in their spare time you have to believe employees are going to want to do it and get paid for it!
London, UK (PRWEB UK) 30 September 2011
Cash strapped UK contact centres do not pay fat cat bonuses to drive employee productivity; not because they can't afford to, but because it doesn't work. More enlightened business leaders have known for some time that the secret of employee productivity is employee morale. Playing games & having fun works wonders for employee morale claims Steve Clucas, Chairman of Motiv8 Solutions, pioneers of 'gamification' and personal knowledge optimisation in the contact centre workplace.
There are almost 1m people employed in contact centres in the UK, and some are relatively poorly paid given that they may perform life-saving work 24/7, 365 days a year for our emergency services & the NHS. The simple fact is that the bosses that run the good UK contact centres have more cost effective ways of creating employee motivation than simple pay. They do it by working on employee morale.
"Certainly most people would get a morale boost from receiving big bonuses. But the positive feelings generated don't last, plus it can damage inter-team relationships & destroy creativity, because people become focussed only on delivering the objectives that pay the bonus, even at the expense of other good things," argues Graham Keen, the UK's leading Positive Motivational Psychologist for business, & a retained advisor to Motiv8 Solutions.
Managing morale in an environment that is by its very nature often mundane, repetitive & boring is a huge challenge for even the most forward-thinking & creative boss. No matter how you dress it up, some of the work is just plain dull. For many years contact centres and in-house call centres have tried no end of ways to try and inject a bit of fun into the work place. Old favourites like Fantasy Football, Battleships & various raffles & incentives have over the past two decades begun to wear thin. Furthermore, during this time the workplace has seen an influx of young people who have been weaned on continual stimulation, multi-media and the web.
"Help is at hand," says Clucas. "Motiv8 has brought the 21st century to the contact centre industry with our unique and revolutionary gamification & personal knowledge platform" Clucas argues that through controlled access to a dynamic casual gaming platform, employers can create positive emotions in employees, which improves morale and ultimately employee performance.
"This is an interesting and well-documented scientific fact," says Keen. "Eminent psychologists Professors Martin Seligman and Barbara Fredrickson conclusively proved back in the 90's that employees that experience positive emotions enjoy enhanced work performance."
But do employees want to play casual games on a computer at work for fun? According to Spil games' 2010 survey, there are 510 million casual game players which to put it into perspective is 40% of all internet users worldwide! According to the effervescent Mr Clucas, "Employees using our product just love it & can't get enough of it; you should see their faces when they are playing and when their avatars appear on the big screens, it's brilliant!"
Motiv8 realise that some will always favour the stick over the carrot, and the old ways over new, which is why globally-respected Professor of Marketing Nick Lee of Aston University is working with Motiv8 over the next few years to produce a series of studies that unequivocally demonstrate the need for such motivational practices. "Working with Motiv8 gives me unrivalled access to people & data; the backbone of serious scientific research, and which to date has been in short supply. With Motiv8, we have near perfect conditions for assessing the effect of different motivational strategies on thousands of real employees in their day-to-day working life."
Whatever your views on bonuses; whether they work, are reflective of effort or even deserved, here is an industry in the UK that is really thinking about how to get the best out of all their people and not just the privileged few. Will gamification catch on? With 510 million people casual gaming in their spare time you have to believe employees are going to want to do it and get paid for it!
Motiv8 solutions are the global leaders of employee productivity in contact centres through the use of gamification. They are based at 6-9 The Square, Stockley Park, Uxbridge UB11 1FW (near Heathrow Airport) in London, UK and are motivating employees in contact centres near you.
For further information contact Dan Gray at Motiv8 on 0800 411 5000. http://www.motiv8solutions.com.
###