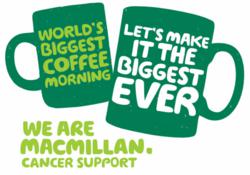 We are delighted to be hosting these coffee mornings for our clients, not only does it help raise awareness for Macmillan Cancer Support but also provides much needed funds for a great cause
London (PRWEB) September 28, 2011
Avanta business centres will join fundraisers from across the country in supporting the Macmillan World's Biggest Coffee Morning on Friday, September 30.
Each business centre will host a coffee morning for both external meeting room and internal office space clients. "We are delighted to be hosting these coffee mornings for our clients, not only does it help raise awareness for Macmillan Cancer Support but also provides much needed funds for a great cause", comments Geraint Evans, Sales & Marketing Director for Avanta. "This is a great networking opportunity for both our clients and staff, and with great prizes and giveaways this event is not to be missed."
The World's Biggest Coffee Morning is Macmillan's biggest fundraising event, bringing people from across the UK (and sometimes further afield) together with a cup of coffee and great conversation. All donations made on the day go to Macmillan Cancer Support.
The money raised from the event will be used to fund Macmillan's support services for people with cancer and their families. Last year over 43,000 people held a coffee morning in support of Macmillan which rose over £8million for good causes.
For more information about joining us at one of our coffee mornings, you can visit our facebook page for more details. – http://www.facebook.com/avantaoffices
For more information on the Macmillan you can visit their website at http://coffee.macmillan.org.uk
For further information about Avanta:
Colin Peck, Gravitas Business Communications
07802 606 433
colinpeck(at)aol(dot)com
Tim Xumsai, Avanta Managed Offices Ltd
0203 008 6000
http://www.avanta.co.uk
Join us at:
twitter.com/avantaoffices
facebook.com/avantaoffices
youtube.com/user/avantagroup
Avanta managed Offices was formed in 2004 by David Alberto. The company offers highly flexible, unbranded office space and meeting rooms, with advanced and competitively price technology, tailor made to meet the requirements of the occupier. In the UK it currently manages more than 650,000 sq ft of office space in prime locations in London, the Thames Valley and Edinburgh. It also operates one business centre in New Delhi, India and in 2009 formed a partnership with Regent Business Centers, which manage 13 locations throughout the US.
###