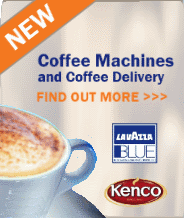 This represents a strong commitment to the coffee machine and hot beverage segment for customers
(PRWEB UK) 29 September 2011
Eden Springs will now be offering a range of coffee, tea, and hot beverage solutions for the workplace or home.
As part of this commitment Eden are pleased to announce that Eden Springs UK has acquired Shakespeare Coffee Company, one of the largest independent coffee companies in the UK. This is Eden's biggest acquisition in the coffee industry in Europe and represents a strong commitment to accelerate the development of the coffee machines and hot beverage business segment for customers.
Coffee machine rental
Eden Springs currently offer a flexible and attractive range of hot drinks machines including Kenco Singles coffee machines and a Lavazza espresso-based coffee machine, with a range of coffee delivery services set to be rolled out.
UK's biggest independent coffee distributor
Based near Birmingham, Shakespeare Coffee Company specialises in premium coffee brewing systems and vending machines, providing expertise to small-to-medium offices and large national multi-location businesses. The acquisition of one of UK's biggest independent coffee distributor will enable Eden Springs to offer all customers a full hydration package, with mains and bottle-fed water coolers and a complete range of hot beverage solutions including premium coffee, hot chocolate, tea and even soup.
Shakespeare's industry knowledge will help provide customers with the very best advice and selection of office coffee machines, including Kenco coffee machines.
Press Contact
For more information, images and if you would like to speak to a member of the Eden Springs team, please contact Damien Higgins on + +44 (0) 1698 725 728 or email Damien.Higgins(at)uk.edensprings(dot)com.
Notes to Editors
About Eden Springs Europe
Eden Springs is Europe's leading provider of drinking water solutions for the workplace, offering a broad range of bottle-fed water coolers, plumbed-in water coolers and PET bottles. The company established its European presence in Poland in 1997 and in less than eight years, has become the leading brand for water coolers, with the widest geographical coverage in Europe's water cooler industry. With a network of branches and water sources across 15 European countries, Eden Springs bottles and distributes more than 368 million litres of water annually and services more than 450,000 clients. Headquartered in Switzerland, Eden Springs has 2,000 employees in Europe.
###