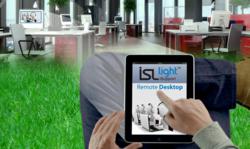 The updated ISL Light remote desktop support and access for iOS is available on the App Store for free, translated in 9 languages.
Swindon, UK (PRWEB UK) 28 September 2011
ISL Online, the global remote desktop and web conferencing software provider, has released a new version of ISL Light for Apple's iOS. The update substantially improves the remote access and IT support app's performance while anyone can enjoy its refreshed user interface now localized in 9 languages. In fact, ISL Light iOS is available on the App Store for free.
The updated ISL Light iOS's new features and improvements include:

Better performance particularly when accessing and controlling a remote computer with larger monitors (27" and 30").
User interface now in English, German, Dutch, Italian, French, Spanish, Japanese, Slovenian and Portuguese language.
Easy computer search within the list of remotely available devices.
One-time login password support available for users of Server License and central authentication service RADIUS.
Automatic logout when the session ends.
Read more in ISL Light iOS's Release Info.
Existing key features of ISL Light iOS (Remote Support & Access):

Connect to any computer even behind a firewall
Connections are secured by symmetrical AES-256 encryption
View remote screen
Proprietary ISSC Turbo Desktop Sharing
Switch between multiple monitors
Automatic screen resolution correction
Remotely control the keyboard and mouse
Reboot a remote computer and resume the session
Use special keys such as Ctrl, Alt, Windows® and function keys
Send Ctrl+Alt+Del to remote computer
Switch between left and right mouse click
Available for free on the App Store
ISL Light for iOS is available free for download on the App Store. To start a new remote support session from an Apple mobile device, a valid ISL Online account* is obligatory. Start your 15-day free trial now and learn more about ISL Light iOS.
*Users with an active free trial, users with active Hosted Service Licence or for Server License users a valid Extended Support Service.
About ISL Online
ISL Online is a privately owned IT business based in the UK which provides SaaS-based remote support and web conferencing software to quickly, simply and securely connect millions of internet-enabled devices across the globe – Windows, Mac or Linux computers and smartphones. Designed for consumers, mobile professionals and IT organizations, ISL Online's solutions empower over 120.000 business users like Konica Minolta, IBM and IDEXX to create more than 5 million sessions yearly.
# # #