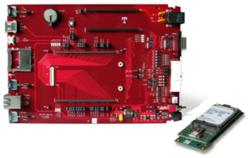 We are pleased to address a very common customer requirement for greater hardware, software and form factor design flexibility.
- Rick Bailey, senior product manager, Multi-Tech
Minneapolis, MN (PRWEB) September 27, 2011
Multi-Tech Systems, a world leading manufacturer of cellular modems for M2M (machine-to-machine) communications, announces the availability of its MultiConnect™ OCG-E, embedded version of the Open Communication Gateway. A first in the industry, this solution combines an open Linux development environment, a fully certified 3G cellular modem and multiple interfaces in one embedded hardware platform, providing many companies the quickest and most cost effective path to enabling wireless M2M communications.
The MultiConnect OCG-E brings together cellular hardware and Multi-Tech's CoreCDP, a distribution version of the Linux operating system and complete Linux build environment. The open communications gateway enables core applications to be embedded in the modem rather than attaching a modem onto discrete hardware running the core application. Combining the applications engine and the modem into a single off-the-shelf hardware platform, this Multi-Tech solution allows companies to create custom applications in a very short period of time.
"We are pleased to address a very common customer requirement for greater hardware, software and form factor design flexibility. The combination of an embedded hardware platform to host a customer's application, combined with a certified cellular modem dramatically reduces their time to market and cost savings," said Rick Bailey, senior product manager, Multi-Tech Systems.
All MultiConnect OCG-E models are carrier and PTCRB or CDG approved, relieving customers the burden and expense of obtaining these approvals independently. All MultiConnect OCG-E models are based on Multi-Tech's proven hardware design featuring our SocketModem® cellular communication devices and an ARM9™ 400MHz processor. The hardware is optimized for application development utilizing our CoreCDP™ Linux distribution. The MultiConnect OCG-E interfaces to a design via an 80-pin board-to-board connector giving developers full access and control of the numerous interfaces and peripherals. Local connectivity options include serial, USB device and host, Ethernet, SPI, I2C. In addition, there are several user definable GPIOs, ADCs and LEDs that can be utilized to enhance your products overall design.
Multi-Tech will is showcasing its Embedded OCG at the Embedded Systems Conference in Boston, MA (Booth #815) this week. Developers are able to pre-order a developer's kit, which includes all the accessories and cables required to begin developing and testing, on the Multi-Tech website for $299. Select models include a free 90 day data plan form AT&T, courtesy of CrossBridge Solutions. Multi-Tech offers support services, a developer community and deployment options to suit any need – providing the shortest path in bringing applications from possibility to production. For additional information on the MultiConnect OCG-E, including a video and a whitepaper visit http://www.multitech.com/mcocge.go. Developers are also invited to attend a webinar entitled "Open Communications Gateways: From Possibility to Production in Minutes, Not Months."
About Multi-Tech Systems
Multi-Tech Systems offers the industry's most comprehensive M2M (machine-to-machine) communications products and services portfolio available today. As a leader in the industry for more than 40 years, Multi-Tech's reputation for reliability and innovative design is evident with 80+ patents, 20+ million devices being used by thousands of customers worldwide and certifications from more than 30 carriers and over 80 countries. Multi-Tech is certified by the WBENC as a Women's Business Enterprise and by C-TPAT (Customs–Trade Partnership Against Terrorism).
# # #