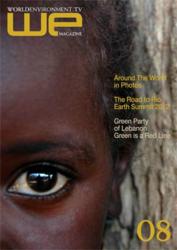 The World Environment Magazine acts as a reference and as a practical guide for Green workers, conscious professionals and leaders.
Beirut, Lebanon (PRWEB) September 28, 2011
In an effort to further fine-tune its green voice, the World Environment Magazine has released its latest September Issue 08. For three consecutive years in a row now, the Magazine has succeeded at raising awareness of the impactful win-win stance each and every one of us can have in incorporating evolutionary planetary dynamics in every aspect of our lives.
The World Environment Magazine acts as a reference and as a practical guide for Green workers, conscious professionals, leaders, and citizens of the world. Readers from all walks of life refer to it for information, but also for inspiration to pioneer and integrate transformation into their new thinking. The Magazine boldly addresses a wide array of specialized topics ranging from Ecology to Health, with the aim of fostering Innovation. This is conveyed though articles, interviews, on green issues like global warming, biodiversity, waste management, sustainable development, water and energy challenges.
Current affairs have geared business efforts towards corporate social responsibility, by factoring it into their profitable business equations to achieve sustainable growth. It has now undeniably become an essential component of an optimized business model. The Magazine is a rich platform for idea generation across industries and green projects, providing handy material and state of the art elucidations to conceive of, but also to technically implement various projects, such that of facing the future of energy.
The latest September issue presents forward thinking solutions to our global challenges, and it does so this time by looking more closely at the prominent role the Middle East has in the global green scene, in addition to leveraging on existing international initiatives. One primary reason for this is that the Middle East distinguishes itself by its young population.
The issue sheds light on Lebanon's commitment to progress on the Green agenda by zooming in on different plans that are underway. For example, it looks at the activities of Lebanon's Green Party, or at energy consumption tips. It also includes environmental and health programs, both on the ground and online, for activities such as the Red Cross', or for online democratic communities such as Facebook. Artwork is also shown to mirror the social and behavioral changes taking place to better the way we live. Write to info(at)worldenvironment(dot)tv to receive a free pdf copy of WE magazine.
A great update is also provided to keep an eye on the green ball with the latest news through media and communications updates, book reviews, research, and a comprehensive program with all the events you would want to see in your business agenda: http://www.worldenvironment.tv/index.php?option=com_content&view=article&id=170&Itemid=32
More specifically this issue gives valuable insight into sustainable development in Green Urbanism and Agriculture. The Global warming section addresses the Road to Rio Earth Summit 2012. Also, the main Energy theme this month is the work the US navy is doing to increase efficiency. Finally, the Eco-living part figures as an extra twist with alternative or pioneering ideas, such as the introduction of a comprehensive health program into conventional medicine, or the awesome green inventions.
The website, http://www.worldenvironment.tv presents the aforementioned informative themes, but is also an interactive platform. The 'Inside' feature provides short videos of geo-political news and analysis. In addition to suggesting food for thought for interested readers, this new web content is designed to be an online dialogue with web surfers and with inventive minds offering them a unique opportunity to be at the forefront of strategic creativity. The different Episodes on http://www.worldenvironment.tv/Inside5htm include headlines on the new possible scenarios in Libia.
The World Environment Magazine voices its message of hope through its uniquely diversified and innovative portfolio of hands-on ideas. Its founders believe in pro-actively creating a new 'space' of prime interface with our environment, and allowing future generations to live in peace, abundance, and natural order.
###