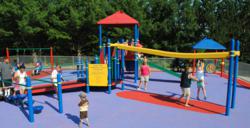 We will be able to offer a more comprehensive product line to our customers.
Delano, MN (PRWEB) September 27, 2011
Landscape Structures Inc., the nation's leading designer and manufacturer of commercial playground equipment, announced today that the company has acquired Eatontown, N.J.- based Pebble-Flex LLC, provider of chemically bonded soft surface materials for playgrounds, water play sites and pool decks. The acquisition strengthens Landscape Structures' product offerings in playground surfacing and expands its market for water play sites, with the most durable soft surfacing systems for wet environments with heavy chlorine exposure. Landscape Structures expects no personnel changes subsequent to the transaction.
"This is an exciting opportunity for Landscape Structures," said Steve King, chairman and cofounder of Landscape Structures. "The innovative PebbleFlex® soft surfacing technologies have a proven durability that has improved safety in facilities for children. Through the strength of this combination, we will be able to offer a more comprehensive product line to our customers while reinforcing our reputation for providing innovative products and market-leading customer service."
As a result of the acquisition, Landscape Structures will employ nine employees in Eatontown, N.J., bringing its total number of employees to more than 300. Jerry Saluti, chief executive officer of Pebble-Flex, will remain the leader of Pebble-Flex serving as president. Saluti, a PhD chemist, brings 30 years experience in the polymer industry and an industry-leading expertise in soft surfacing technology to Landscape Structures.
"Pebble-Flex uses a breakthrough technology that is unique in the soft surfacing industry," said Jerry Saluti, CEO of Pebble-Flex. "Its totally aliphatic polyurethane chemistry ensures a surface of strong chemically bonded pebbles with UV light stability and chlorine resistance, providing unmatched color retention and surfacing properties. We are confident that Pebble-Flex will complement Landscape Structures' products. Our combined product offerings will provide even more complete play system solutions. The two companies have shared values that will benefit our customers."
About Landscape Structures
Since 1971, Landscape Structures Inc. has been the leading commercial play equipment manufacturer in the world. The employee-owned company is committed to making the world a better place with active children thriving in leading communities year after year, generation after generation. It encourages outdoor play that develops healthy kids and a sustainable world by creating innovative products that are environmentally responsible. Landscape Structures' mission from day one has been to enhance children's lives by fostering and creating inspiring play experiences while honoring the environment. Visit playlsi.com to learn more.
About Pebble-Flex
Pebble-Flex is a leader in providing comfortable, safe, durable and easily installed soft surface materials. PebbleFlex safety surface for playgrounds is a unique blend of technology and practicality that enables schools, parks and pool operators to improve the safety of their facilities for kids. Their AquaFlex system provides a uniquely chlorine resistant surface for water play areas. Pebble-Flex is based in Eatontown, N.J. Visit http://www.pebbleflex.com for more information.
###