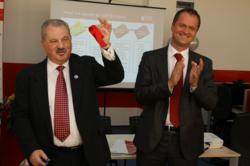 We are very confident that the Sibiu Contact Center will not only meet our expectations in becoming the primary hub for CGS' European expansion, but will exceed them ... - CGS CEO Phil Friedman
New York, NY (PRWEB) September 27, 2011
Computer Generated Solutions, Inc. (CGS), a global leader in IT solutions, software and services, held its premier Grand Opening event and ribbon-cutting ceremony for the company's new Sibiu Contact Center on Thursday, September 1, 2011. The Sibiu location will deliver customer care, technical support, and other professional outsourced services for worldwide clientele. This is CGS' third office to open in Romania, after the successes of its contact centers in Bucharest and Brasov. The event brought both CGS Senior Management and the Sibiu community together to celebrate the center, as well as to offer company information and networking opportunities for CGS employees, potential recruits, and the region's media. The Grand Opening began with a press conference, where CGS President & CEO Phil Friedman and Country Manager for CGS Romania Vladimir Sterescu, spoke about the company's strategy for choosing Sibiu for its third site in Romania; about the office's community outreach to recruit roughly 600 employees for varied positions in professional outsourced services; and about CGS' investment in Sibiu's local economy.
Mr. Friedman remarked, "We are very pleased to be here to celebrate the Grand Opening of our new Sibiu Contact Center. Our presence in the Sibiu region is central to our plan for extensive growth in Romania and in Europe, being that its people are highly-educated and motivated to achieve their goals and that Sibiu is a major center of international travel. The feedback we have received from Sibiu's management team and our employees about the community has been phenomenal. We continue to be extremely positive about our strategy as we move forward in development within the region and with our recruiting efforts." Friedman added, "We are very confident that the Sibiu Contact Center will not only meet our expectations in becoming the primary hub for CGS' European expansion, but will exceed them with the dedication of its management and employees in delivering CGS' signature, quality services."
All aspects of the Sibiu Grand Opening proved to be a success, including CGS' slideshow presentation, the networking cocktail and buffet, and recruitment campaign.
"We are very delighted by this event and the progress of the CGS Sibiu Contact Center," stated Mr. Sterescu. "Moving forward, we are implementing our strategy to fill 600 positions at the Sibiu Office for customer service representatives and technical support at all levels, and we are excited about working with such a talented, educated and international population."
The Sibiu Center will play a central role for CGS Contact Centers in Romania, the largest Call Center operations in the region for outsourced services. Sibiu will enable the company to better serve the strong and increasing demand for the company's state-of-the-art business process outsourcing (BPO) solutions throughout Europe and around the world to enterprise customers and government agencies.
For additional information concerning the event or job recruitment, please contact the office at (40) 215270000 or visit the company's Romania Page on Facebook (CGS-Romania).
About CGS
For more than twenty-seven years, CGS has enabled global enterprises, regional companies and government agencies to drive breakthrough performance through technology. Headquartered in New York City, CGS employs close to 4,000 professionals in 20 offices in North America, Europe and Asia. With global delivery capabilities, expertise across leading platforms and deep experience in multiple industries, CGS has become the IT partner of choice for thousands of organizations worldwide. CGS delivers a wide array of proprietary and third-party business applications, technology and business services, and business process outsourcing solutions, including customer care, technical support and corporate learning & training. For more information please visit http://www.cgsinc.com.
###