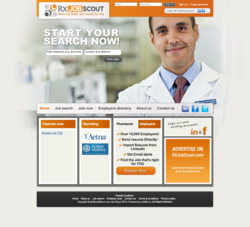 Winter Park, FL (PRWEB) September 27, 2011
Rx Job Scout and Pharmacy Marketing Quarterly reached a cooperative marketing agreement this week, providing added exposure that furthers the reach of both organizations.
This agreement is one in a rapid fire string of similar deals that senior marketers at Rx Job Scout are structuring as the company moves rapidly towards it official October 3 launch. The cooperative marketing agreements so far in place include key regional clients, major hospital groups, and national recruiting firms.
Cooperative marketing agreements are only one part of a multi-faceted plan that includes rigorous PPC (pay per click) online advertising, direct response pieces, and field personnel in all of Rx Job Scout's various sales regions. Marketing managers at Rx Job Scout estimate 40,000 unique visitors per month when final roll out of the site is completed in early 2012.
"With an aggressive campaign plan already in place in our targeted regions, we are seeing a large influx of traffic and interest in our family of products," said Managing Director, Nayte Carrick. "We are very pleased that even before our launch, we are exceeding traffic, sign up, and revenue projections."
Rx Job Scout is a newly devised job board providing the strongest tools for licensed Pharmacists and Potential Employers to connect. The company offers industry first technological advances like Facebook account authentication and LinkedIn profile importing, along with the most robust search engine of any pharmacist job board on the market.
Rx Job Scout is currently running pre-launch promotions for early adopters. For more information on these promotions, or to learn more about working with Rx Job Scout, please contact us at info(at)rxjobscout(dot)com.
###