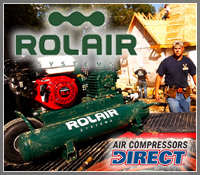 With more than 50 years experience, the craftsmanship of RolAir compressors make them the choice for rugged applications
Bolingbrook, IL (PRWEB) September 27, 2011
Today AirCompressorsDirect.com announced the addition of RolAir air compressors.
"RolAir compressors are built specifically with contractors and building professionals in mind," said Steve Robbins, resident product expert at Air Compressors Direct. "With more than 50 years experience, the craftsmanship of RolAir compressors make them the choice for rugged applications."
With the addition of this Rolair product lineup, Air Compressors Direct now offers a wider offering of pancake, hot dog, twin stack, portable electric and wheelbarrow air compressors.
RolAir compressors are designed to withstand the rigorous demands of commercial and industrial job-sites.
AirCompressorsDirect.com has established one of the most comprehensive collections of air compressors, carrying more than 475 models of compressors from top brands such as Ingersoll-Rand, Chicago Pneumatic, Campbell Hausfeld, FS Curtis and Quincy.
The online superstore has also compiled a complete product offering of air tools, such as air hammers, die grinders, impact wrenches, sanders and much more.
Power Equipment Direct operates nine niche online superstores. In addition to AirCompressorsDirect.com, the Bolingbrook, IL-based company operates ElectricGeneratorsDirect.com, PressureWashersDirect.com, SnowBlowersDirect.com, MowersDirect.com, WaterPumpsDirect.com, SumpPumpsDirect.com, ChainSawsDirect.com and LogSplittersDirect.com/.
###