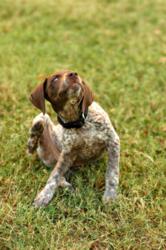 It feels good to know that Scout & Zoe's chews are being enjoyed by so many dogs who might otherwise not be able to tolerate an animal-based product
Anderson, IN (PRWEB) September 28, 2011
Just in time for the fall allergy season, Scout & Zoe's Natural Antler Dog Chews Antler Dog Chews is offering a list of warning signs to determine if a pet is suffering from allergy symptoms.
WebMD Healthy Pets reports that one in every seven dogs suffers from allergic symptoms, and that allergies are now the most common reason dogs are taken to the veterinarian. Unfortunately, many dogs suffer in silence because their owners aren't aware of how to spot allergy symptoms, and thus unable to take steps to provide relief.
According to the American Society for the Prevention of Cruelty to Animals (ASPCA), dogs are very similar to people in the way their bodies' immune systems react to potential allergy-causing substances in the environment. These substances – or allergens – can be problematic when inhaled, ingested, or when they come into contact with the dog's skin. Fleas and other biting insects can also trigger an allergic reaction.
"While humans tend to experience upper respiratory symptoms when an allergy is triggered, the target organ in dogs is usually the skin, with intense itching being the principal sign," writes WebMD. "Dogs with allergies often scratch continuously and are miserable, snappish, and generally unpleasant to be around."
According to the ASPCA, the general symptoms or warning signs of allergies in dogs include:

Itchy, red, moist or scabbed skin
Increased scratching
Itchy, runny eyes
Itchy back or base of tail
Itchy ears and ear infections
Sneezing
Vomiting
Diarrhea
Snoring caused by an inflamed throat
Paw chewing or swollen paws
Constant licking
In more severe cases, dogs can suffer from hives, which are characterized by the sudden appearance of raised, circular, itchy wheals on the skin. Hives, which can also cause swelling of the eyelids, generally appear within 30 minutes of exposure and disappear within 24 hours.
Indiana dog lover Cindy Dunston Quirk had a personal experience with canine allergies that led directly to the development of Scout & Zoe's Natural Antler Dog Chews.
"When our dog Zoe was a pup, she scratched a lot and had bumps on her tummy," says Cindy. "Our veterinarian found she is allergic to a lot of things, but especially anything that came from a cow. So for her entire life, she has not had the enjoyment of a bone in any way. I searched and searched and could not find a product for her to chew on, so Scout & Zoe's Natural Antler Dog Chews was born."
Scout & Zoe's Natural Antler Dog Chews are 100 percent natural premium elk antlers, gathered only after they've been shed naturally as part of the animal's life cycle.
Antler chews are the right choice for the 15 to 20 percent of dogs with allergies to beef or pork, as well as those who suffer from certain other digestive problems. They're a safer choice for any dog, because antler chews don't splinter like bones. Owners like them because they don't wind up in a gooey mess like rawhide, and best of all they take away the need for pets to chew on furniture, shoes and other things around the house.
Scout & Zoe's elk antler chews are a safer, better choice, as there is no risk of splintering. While the dog chews on the antler chew it grinds into a powder that the pet ingests. Antler chews carry no risk of disease, since they are gathered naturally and not as part of the food production industry.
Pet health experts agree that the best approach to treating allergies, especially those involving diet, is to prevent further exposure. In some cases, a veterinarian may prescribe antihistamines or other medications. The most important thing is to identify and treat allergies as soon as possible, because they can lead to serious health problems like recurring ear infections and hot spots.
"It feels good to know that Scout & Zoe's chews are being enjoyed by so many dogs who might otherwise not be able to tolerate an animal-based product," says Cindy. "But I also hope we can draw attention to the fact that so many of our furry friends are suffering in silence with allergies. It's all about helping them lead a happier and healthier life!"
About Scout & Zoe's: Scout & Zoe's Natural Antler Dog Chews are 100 percent natural premium elk antlers, gathered only after they've been shed naturally as part of the animal's life cycle.
Scout & Zoe's are superior to other chews in helping dogs maintain clean, healthy teeth and contain trace minerals such as calcium and phosphorous which add to the pet's overall health.
Typically lasting four to six weeks, Scout & Zoe's chews are available in a variety of sizes to suit every breed. No animals are harmed and no violence is imposed on any elk during the gathering of the antlers.
To order Scout & Zoe's chews for your pet, go to http://www.scoutandzoes.com or call (317) 457-7222 to find a retail outlet near you.
###