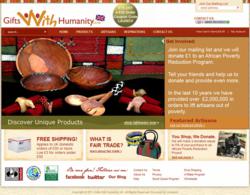 Edgewater, FL (PRWEB) September 30, 2011
In what for its British born founder seems like a natural move, the Fair Trade retailer Gifts With Humanity launched GiftsWithHumanity.co.uk, a UK version of its US website, just in time for the holiday season.
The founder , Kevin Ward, explains that as a British volunteer based in Kenya in 1999, he had originally thought he'd open the business in the UK. It was only after meeting his now wife and co-founder Renice, a US volunteer, that he moved to the US in 2000 and the couple launched the US site.
"The expansion to the UK seems like a natural fit," says Ward. "Fair Trade is a well known movement there and consumers are concerned not only about who makes the products they buy but that companies give back to the world's less fortunate."
As with the US-based site, Gifts With Humanity UK will focus efforts on Fair Trade products and charitable work. The UK site will be focusing on African Poverty Reduction programs with 5% of all sales being donated to charities who work in Africa.
During October Gifts With Humanity will be celebrating the launch with a range of promotions, including giveaways and great deals. For every person who joins the mailing list, the company will donate an additional £1 to African Poverty Reduction. All of the launch specials will be posted on the site's new facebook page.
The couple is excited about the opportunities the new site offers to their producer partners in developing countries as well as the donationss to help reduce poverty in Africa.
###