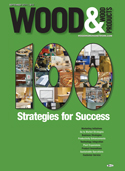 Lanham, Maryland (PRWEB) September 30, 2011
Closet America, a leading manufacturer of home organizational systems headquartered in Lanham, Maryland, announced that the company has earned a spot on the 22nd Annual WOOD 100 Report of fast-growing North American woodworking companies. With over a 50% increase in sales in 2010, Closet America appears at number 10 on the list.
This is the second year in which Wood & Wood Products magazine, a publication of Woodworking Network, expanded the parameters of the WOOD 100 to not only recognize sales growth, but to also pay tribute to those companies that have grown better.
Karen Koenig of Wood & Wood Products magazine said, "All across North America, wood products manufacturers are distinguishing themselves from global and domestic rivals by quality control measures put in place, sustainability efforts, and most importantly, by high levels of customer service. I am constantly amazed by the strength of the companies in the woodworking industry. More so than perhaps any other market, they have been hard hit by the economy — and they are doing whatever it takes to not only survive, but succeed."
Skip LaBella, president of Closet America, was proud to appear on this year's list. "It is truly an honor to appear on the WOOD 100 list." LaBella remarked on the reason behind Closet America's continued growth. "In this challenging economy, it's more important than ever to give our customers more value for their hard earned dollars. We accomplish this by enhancing the customer experience through 3-D computer technology, custom manufacturing, and our unyielding focus on customer service. Yet, achieving this level of professionalism and receiving this honor would not have been possible without the complete dedication from every individual who makes up the Closet America family."
About Closet America
Closet America is a privately owned and locally operated manufacturer and installer of custom home organization systems for closets, home offices, kitchens, and garages. Founded in 2007, Closet America has steadily grown into one of the premier names in the professional organizing systems industry, by raising the standards for quality and customer service. Closet America is a vertically integrated company where design, engineering, manufacturing, sales, and service are all controlled internally. Closet America has two locations, with a manufacturing plant and distribution center in Landover, Maryland, and corporate headquarters, administrative offices and showroom in Lanham, Maryland. For more information, visit their website.
# # #