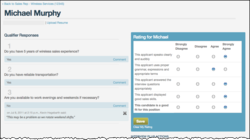 InterviewPlus has helped us dramatically improve our recruiter efficiency and effectiveness.
Alpharetta, GA (PRWEB) September 29, 2011
HireIQ Solutions, Inc., the innovative company that improves the hiring and recruiting process for customer-facing organizations, announced today the immediate availability of the latest version of HireIQ InterviewPlus. Driven by extensive customer and market input, this new release includes a unique communication analysis algorithm; the ability to test for grammar, math and critical thinking proficiency; interview scoring and analysis; and several features that facilitate better usability and workflow. Since InterviewPlus is a Software-as-a-Service (SaaS) application, the new release is immediately available to all current customers.
The new features will enable organizations to more quickly identify those job applicants who possess the skills necessary to satisfy the customer interaction needs of the organization. Recruiters in these hiring organizations will be able to fill open positions faster with candidates that are better qualified. As a result, recruiters will provide better service to their stakeholders by hiring candidates that are more likely to stay with the organization longer and will perform better from the first day of hire.
InterviewPlus uses media-rich web and voice response technologies to lead an applicant through a series of text-based and voice response questions that are configured to each customer's unique requirements. Interviews conducted through InterviewPlus can be designed to test the applicant's customer service aptitude, critical thinking, math skills, grammar proficiency and communication skills. As a web-based application, InterviewPlus allows applicants to complete their interviews when it is convenient for them and stores their responses for a recruiter to evaluate later. This effectively expands the reach of a company's recruiting team.
"InterviewPlus has helped us dramatically improve our recruiter efficiency and effectiveness," said Jared Fletcher, vice president of Operations at Arise Virtual Solutions. "Our clients and stakeholders demand that the very best agents be assigned to their accounts and InterviewPlus helps us ensure that is the case. HireIQ works closely with us to understand our business and how its solutions can provide additional value. The features included in its latest release are proof that they take their customer relationships seriously."
Market-Driven Enhancements Satisfy Real Needs
In planning for this new release, HireIQ actively solicited input from key stakeholders, including its customers, industry sources and valued partners, helping to ensure that the features developed would satisfy real business needs. The key features of the new release of InterviewPlus include:
Communication Analysis. The attributes of better-qualified candidates tend to be reflected in their speech patterns. InterviewPlus now includes an automated communication analysis algorithm that assesses a candidate's recorded voice response interview to determine how well it fits the model for good communication skills. Best-fit candidates are placed at the top of a ranked list for evaluation, streamlining the recruiter's candidate review process.
Interview Scoring and Analysis. InterviewPlus now includes an interview evaluation-scoring module that allows a recruiter to assign a quantitative score to an applicant's interview. This scoring uses a common four-point Likert-type scoring scale which a recruiter can utilize to evaluate up to five discreet attributes of the interview. This feature is also helpful in calibrating interview evaluations to ensure recruiter consistency.
Configurable Tests. Customers can configure text-based tests to assess a candidate's math, grammar, communication and critical thinking skills. These tests are automatically scored by the InterviewPlus application and those applicants who score the highest can be identified at the top of a recruiter's evaluation queue for review. This allows recruiters to quickly identify those candidates with the most desirable skills and advance them to the next stage in a company's recruitment and hiring process.
Usability and Workflow. As part of its ongoing effort to streamline interviewing processes and increase recruiter efficiency and effectiveness, the new version also includes several product usability and workflow enhancements.
"This new release of InterviewPlus highlights our commitment to developing recruiting optimization technologies that have a positive business impact for our current and future customers," said Joe Gruca, chief executive officer of HireIQ. "Our InterviewPlus virtual interviewing application is a proven and valuable solution that improves the quality of candidate hires, reduces time-to-fill, and increases the recruiting team's value to its stakeholders."
For a complete listing of HireIQ news, please visit http://www.hireiqinc.com/about/press/.
ABOUT HIREIQ SOLUTIONS, INC.
HireIQ Solutions, Inc. helps customer service organizations improve hiring decisions, reduce recruiting costs and increase talent performance using its proven predictive performance technology. HireIQ's flagship product, InterviewPlus, uses rich media, web and voice response technologies to automate the phone screening process, resulting in better-qualified candidates presented during the hiring process. Employees hired using HireIQ's suite of talent performance optimization products demonstrate increased speed to competency, reduced attrition and improved sales and service performance. HireIQ is a privately held company based in Atlanta, GA. For further information, please visit http://www.hireiqinc.com. Follow HireIQ on Twitter at http://www.twitter.com/hireiqinc.
© 2011 HireIQ Inc. All rights reserved. All materials provided, regardless of form, are the exclusive property of HireIQ. HireIQ's products may be covered by one or more United States, European or other international patents or applications. All trademarks are the property of their respective owners.
###