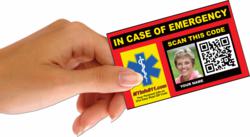 Palm Coast, FL (PRWEB) September 29, 2011
The Yellow Dot Program born in Alabama is currently being looked at by approximately 30 other states and many have adopted it already; It is a great idea... The driver of an automobile is protected by having his/her pertinent medical information available in the glove box. But what hasn't been addressed is how the passengers, pedestrians and others on the road are covered if involved in the same accident.
MyInfo911.com is the first Medical Identification company utilizing QR Codes and Smartphone technology and they've now taken the Yellow dot program an important step further.
"The MyInfo911 program can cover every individual both on AND off the roadways, including but not limited to the driver of a vehicle, passengers, motorcyclists, bicyclists, pedestrians, children and even folks in Wheelchairs", said President Lawrence OReilly.
This innovative company not only offers an Emergency Id Card for your wallet, but 3 different size adhesive labels that can be applied on motorcycle and bicycle helmets, book bags, lunch boxes, golf carts, wristbands, and even car seats! Their newest feature, a Yellow Dot sticker is now included in the package for the rear window of the car.
About MyInfo911
Started in October 2010, MyInfo911 provides emergency identification cards that use QR codes to provide pertinent medical history information to first responders and other medical providers. The Palm Coast, Florida based company's cards have the person's picture, name and QR code on the front and the person's name, year of birth, emergency contact, blood type, allergies and specific medical conditions on the back. For more information visit https://www.myinfo911.com.
# # #