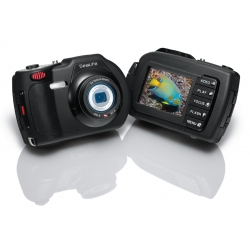 Tequesta, Florida (PRWEB) September 28, 2011
Underwater Cameras Direct brings aboard to its fine line of underwater cameras the new SeaLife DC 1400, with its 720p video or 14 megapixel high resolution capability. SeaLife, the leader in underwater cameras, built the new DC 1400 to be easy to use for creating your own personal undersea concerto of sight and sound.
Boasting five easy-to-use "piano keys", the DC 1400 allows you to take either true high-definition 720p video or 14 megapixel high-resolution images of your adventures beneath the seas and above water as well. These five large primary control keys eliminate the confusing button cluster of a traditional camera to provide simple one-handed operation in any environment.
Water proof for up to depths of 200 ft (60 meters), the DC 1400 incorporates a feature-packed, premium high-resolution underwater camera with a new design that redefines simplicity and ease of use. It weighs less than 18 ounces and its rechargeable lithium battery will power the camera for approximately one hour of continuous HD video-perfect for a two-tank dive-or for in excess of 200 photographs.
###