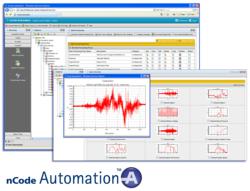 The combination of security, data management and analysis on a central server available in nCode Automation was particularly appealing to Turbomeca.
(PRWEB) September 27, 2011
Turbomeca, which specializes in the design, production, sale and support of gas power turbine for small and medium helicopters, has selected nCode software - a leading brand of durability, test and analysis products by HBM - to ensure the storage, management, analysis and traceability of thousands of measurement channels of test data.
nCode Automation 7 software is especially suited for applications where large amounts of data are generated, for example, in the aerospace industry from test rigs or flight tests. nCode Automation is a unique engineering software that centralizes, secures, manages and analyzes all the data from a central server. Based on secure web technology, nCode Automation provides direct access to data, analysis and reports to all departments, sites and project partners through a web browser on a computer or mobile device.
The combination of security, data management and analysis on a central server available in nCode Automation was particularly appealing to Turbomeca. nCode Automation has the ability to automatically process thousands of records from multiple data acquisition units with hundreds of measurement channels. It also offers greater security and traceability for data and analysis. "All these reasons led us to choose nCode Automation software," says Jean-Claude Moussion, scientific IT manager from Technical Direction.
Productivity, however, is not the only advantage of using nCode Automation - it also has an intuitive interface that allows for quick software adoption. For more information about nCode Automation view this webinar recording.
Image caption: nCode Automation enables departments, sites and project partners at Turbomeca to manage, share and analyze thousands of channels of measured data.
About HBM-nCode
nCode products are provided by HBM, a world-wide technology and market leader, offering products and services across the entire measurement spectrum, from virtual to physical. For over 25 years, nCode has been the leading brand for durability and data analysis solutions. Its technologies aid customers to understand product performance, accelerate product development and improve design. The power and ease of use of HBM technologies is a direct result of its world-class development process, expertise and in-depth experience of a broad range of industries. nCode product development is ISO9001 certified. Product support is available through HBM-nCode offices in Europe, North America and Asia. For more information, please visit http://www.hbm.com/ncode.
About Turbomeca
Turbomeca (Safran group) is the leading helicopter engine manufacturer, and has produced over 68,000 turbines based on its own designs since the company was founded. Dedicated to 2,350 customers in 155 countries, Turbomeca provides a proximity service thanks to its 16 sites, 26 Maintenance Centers, 24 Repair & Overhaul Centers and 90 Field representatives and Field technicians. Microturbo, the subsidiary of Turbomeca, is the European leader in turbojet engines for missiles, drones and auxiliary power units.
For more information: http://www.turbomeca.com and http://www.safran-group.com
# # #