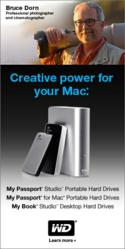 During the Western Digital Creative Masters Workshop, Bruce Dorn will lead an in-store workshop that showcases creative photography tips.
NYC, NY (PRWEB) September 27, 2011
B&H Photo Video is excited to share with you the Western Digital Creative Masters free Workshop.
Bruce Dorn will be conducting the same workshop twice. Please only register for one of the sessions, in consideration for everyone who'd like to attend this event and benefit from this photography master.
During the Western Digital Creative Masters Workshop, Bruce Dorn will lead an in-store workshop that showcases his work, describing his photography travels in great detail, and how he uses Western Digital products in his daily life. There will be an emphasis placed on showing attendees how to use the My Book Live personal cloud storage. Accompanying Bruce Dorn will be Western Digital Product Expert Matt Bennion, to further integrate the Western Digital products into the workshop and answer any questions.
Specifically, Bruce Dorn and Matt Bennion will be providing education about:

Lighting, photography, and digital film-making techniques and work flow
Advantages of a personal cloud, featuring My Book Live personal cloud storage
WD 2go mobile app, Western Digital's new remote access solution for connecting to your My Book Live personal cloud storage
Importance of backing up work using Western Digital drives
B&H Event Space:
Tuesday, October 4, 2011 | 11:00 AM - 1:00 PM and 3:00 - 5:00 PM
Speaker: Bruce Dorn
Event Type: Photography
Skill Level: Basic, Intermediate
The B&H Event Space is a leading-edge learning environment designed to educate, inspire, and cultivate a community of like-minded individuals, who aspire to be great at what they love to do. By offering free workshops and lectures in photography, video and pro audio, it is our mission to help those in this community achieve their goals.
The B&H Event Space partners with major photography manufacturers in the imaging industry and academic institutions in the arts to produce a wide range of workshops and seminars covering a vast spectrum of topics. B&H "Mavens," employees who are experts on a specific topic, teach classes in the Event Space. On Sundays, high-profile and emerging photographers, as well as industry professionals, deliver inspirational lectures about their work and spin their personal tales of success.
The B&H Event Space is more than a physical space. We feature event videos online that are also available through podcasts, so that you can view them at home or while traveling.
During B&H Blitz, one lucky winner will get the chance to win a space in the Urban Photo Walk in New York City with Bruce Dorn on October 26, 2011. Western Digital's Photo Walk is an exclusive two-hour special event where the lucky winners get the chance to capture Central Park points of interest while gaining photography tips and tricks from Bruce Dorn.
B&H is pleased to offer an astonishing array of free seminars and inspirational lectures by talented pros from around the world. You can self-register online to guarantee a seat.
The B&H Event Space is located on the second floor of our SuperStore, at 420 9th Ave, New York, NY 10001.
You can FaceBook Fan us
Follow B&H Photo Video at Twitter
About B&H Photo Video
As the world's largest source of photography video and audio equipment, B&H Photo-Video is known worldwide for their attentive, knowledgeable sales force, and excellent customer service, including fast, reliable shipping. Visitors to the website can access a variety of enlightening articles and educational videos. B&H has been satisfying customers worldwide for close to 40 years.
# # #