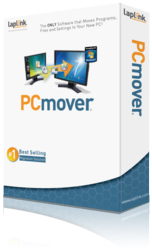 Any company that needs to conduct small or large scale PC refresh projects should use PCmover.
Bellevue, WA (PRWEB) September 27, 2011
Laplink Software, Inc. today disclosed that adoption of its PCmover® Enterprise™ migration and deployment solution has exceeded forecasts after being selected by some of the world's largest organizations.
PCmover, the number-one best-selling migration solution from Laplink, is used for PC migration projects large and small ranging anywhere from around 50 to over 40,000 PCs. Organizations choosing Laplink PCmover include large financial institutions, manufacturing companies, world-renowned universities and several global technology firms.
"We completed 3,157 PCs in 11 weeks and around 2,500 were Windows® XP® to Windows 7," said a manager at a global automotive product supplier. "PCmover was used in all the refreshes and performed very well."
PCmover is the only migration solution that moves programs, files and settings from one PC to another. It is an efficient solution for organizations of all sizes; small businesses, large enterprises and everyone in between can benefit. PCmover is fully customizable to fit any migration project using the unique Policy Manager module to set predefined migration settings for an easy one-click solution. PCmover is fully compatible with Microsoft System Center Configuration Manager 2007 and other similar tools.
"PCmover is the most complete migration solution available and saves companies of any size thousands of dollars and hours of time," explained Laplink CEO Thomas Koll. "Any company that needs to conduct small or large scale PC refresh projects should use PCmover."
The ease of use and its automated processes make PCmover a stress-free implementation as the average savings per PC migration is anywhere from $300 to $2,200 or even more. Some companies have seen estimated cost savings of up to nearly $3.5 million.
"PCmover is automating or saving about 40% of our time versus doing the migration manually," according to the IT supervisor at a leading online broker.
In each migration project, Laplink offers full implementation assistance and technical support throughout the project. Companies of any size that are needing to conduct a PC refresh, migration or upgrade project can contact Laplink's corporate sales team directly at CorpSales(at)laplink(dot)com. More information about Laplink's migration solutions is also available at http://www.laplink.com/business_solutions/pcmover.
# # #