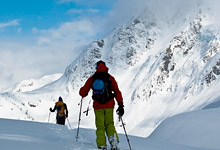 Gorilla has helped us reach one of our primary goals: leveraging the Magento platform to build our brand and communicate on a global scale.
Chicago, IL (PRWEB) September 27, 2011
Gorilla, an award-winning ecommerce solutions provider and 2010 Magento Partner of the Year, has announced the launch of a globally-focused ecommerce channel for adventure apparel and gear maker Outdoor Research (OR) http://www.orgear.com/. Built on the Magento Enterprise platform the newly designed site outfits OR with a 360° ecommerce solution that will enable the revered outdoor brand to reach new heights, and customers.
"With their extensive experience with Magento and onshore development workforce, Gorilla has helped us reach one of our primary goals: leveraging the Magento platform to build our brand and communicate on a global scale," said Keith Karlick, Web Marketing Supervisor at Outdoor Research. "It's obvious that everyone at Gorilla is committed to quality work."
To help OR reach customers beyond their loyal following of avid climbers, hikers, skiers and outdoor enthusiasts, Gorilla deployed a multi-store Magento environment, residing within a single 'parent' website. At launch, this consists of 4 separate stores: U.S., U.S. government, Canada and Japan, with additional stores planned in future releases. Within each store, OR has the ability to separately manage inventory, pricing and transactions in the local currency, while tailoring language and imagery to create localized experiences for each market.
Capturing the brand's trademark "Designed by Adventure" tagline, the new site leads visitors into the brand experience with breath-taking full-page imagery that sets the stage for what's to come. This continues with a streamlined, but multifaceted interface that delivers unique Pro and Brand user experiences. Within this customer segmentation functionality, Pro users—brand ambassadors who are curated by OR—have direct access to the site's ecommerce capabilities and preferred pricing. Brand customers receive the same access to detailed information and multimedia content to educate themselves on product options. At the point of purchase, however, Brand customers are funneled to OR's longstanding retail partners, maintaining cross-channel consistency.
Among the 18 functional enhancements that were implemented to shape the unique OR ecommerce experience, dual Wordpress integrations add video content and are linked to the product catalog, creating a secondary path to product discovery. PowerReviews was added to support OR's Lab Rat program, which serves as a valuable source of expert user-generated content and customer interaction. On the back-end, Gorilla integrated Avalara software for sales tax compliance and Blue Cherry ERP integration to more easily control supply chain and warehouse management.
Gorilla's complete solution for Outdoor Research, positions the brand to trail blaze into new markets and share their undying passion for Human Powered Adventure.
###