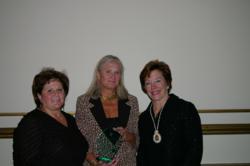 Jill brings professionalism, skill and caring to each client she serves. Consumers, the community and our agency all benefit from her passion, and I am honored to work with her
Washington, DC (PRWEB) September 28, 2011
Consumers in Nevada would agree that their state could rival all others when it comes to economic setbacks. While consumers are forced to face incredible challenges, helping them put the pieces of a broken financial life back together is a challenge Jill Perry with Consumer Credit Counseling Service of Southern Nevada and Utah willingly takes on.
Of more than 3,000 National Foundation for Credit Counseling (NFCC) counselors, only one is selected each year as the NFCC's Professional Achievement and Counseling Excellence (PACE) Outstanding Individual Counselor. Perry, an NFCC Certified Consumer Credit and Housing Counselor for the Las Vegas based agency, is the 2011 winner.
Perry so strongly believes in the value of credit and housing counseling that she has become the counseling road warrior for the agency, traveling to seven of the state's 16 counties to bring on-site counseling and financial education to this extremely large geographic region.
Perry's results-oriented approach allows her to build a rapport with the clients, making them feel at ease as they share personal financial information. Knowing that each client is different, she refuses to embrace a "one-size-fits-all" approach, and instead provides viable solutions appropriate to each person's needs and circumstances. Perry's counseling technique is a two-way street, as she purposefully involves her clients in the resolution process, resulting in a higher success rate.
Not only does she motivate clients in reaching their full financial potential, but takes the extra steps necessary to put them on the road to financial stability by including money in the budget for savings, periodic expenses and emergencies. Her quality counseling techniques result in her clients enjoying the highest monthly savings contributions at the agency.
As a part of her holistic counseling approach, Perry encourages parents to include the entire family in the budgeting process and suggests to clients that they have a family meeting about any changes they commit to. Her belief is that by involving the entire family in the goal of making responsible money decisions, not only will the likelihood of success increase, but important financial values will be instilled in the children.
Perry's success continues in the housing counseling area, with 93% of her mortgage default counseling sessions last year resulting in a positive outcome that allowed the homeowners to avoid foreclosure. However, in situations where foreclosure is inevitable, Perry focuses on the positive results that can come from seeking alternative housing, allowing her client to see the bright side of their issues. For example, she will research home rental costs in the area where the client resides, often finding that the rent is less expensive than the previous mortgage payment. Her reward is seeing the relief in the parent's eyes, knowing their children don't have to leave their neighborhood school or the friends they've made.
Perry currently serves as the Chair of the Board of Directors for Silver State Fair Housing Center, works closely with the United Way on their financial literacy outreach, participates in foreclosure prevention events facilitated by Nevada's Congressional members, HUD and/or financial institutions, and is instrumental in organizing events with the Federal Home Loan Bank of San Francisco to provide financial literacy to many of the Native Americans residing on a reservation or in a colony in Northern Nevada. HUD recently honored Perry with the Heart Award, recognizing what she has accomplished to further fair housing.
"Jill brings professionalism, skill and caring to each client she serves. Consumers, the community and our agency all benefit from her passion, and I am honored to work with her," said Michele Johnson, president and CEO of CCCS of Southern Nevada and Utah.
Special thanks to Citi and Experian for their contributions in support of the PACE Award program.
The National Foundation for Credit Counseling (NFCC), founded in 1951, is the nation's largest and longest serving national nonprofit credit counseling organization. The NFCC's mission is to promote the national agenda for financially responsible behavior, and build capacity for its members to deliver the highest-quality financial education and counseling services. NFCC Members annually help more than three million consumers through close to 800 community-based offices nationwide. For free and affordable confidential advice through a reputable NFCC Member, call (800) 388-2227, (en Español (800) 682-9832) or visit http://www.nfcc.org. Visit us on Facebook: http://www.facebook.com/NFCCDebtAdvice, on Twitter: twitter.com/NFCCDebtAdvice, on YouTube: http://www.YouTube.com/NFCC09 and our blog: http://financialeducation.nfcc.org/.
Contact: Gail Cunningham
(202) 677-4355 – direct
(240) 672-2700 – cell
gcunningham(at)nfcc(dot)org
###