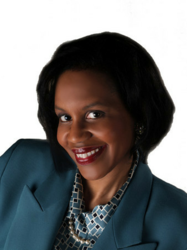 Columbia, SC (PRWEB) September 28, 2011
Victory Starts Here! That is the slogan Dr. Yvonne Corppetts notices a lot around Fort Jackson, South Carolina. Having grown up as a military brat (her father retired MSgt Earl Jones spent 30 years in the Army) and having served in the U.S. Army herself, Corppetts feels at home at Fort Jackson where she will be signing her new book, Take Charge for Major Success. "My roots started in the Army and much of my success I owe to my military training and my family upbringing."
According to the paper, Happiness in Everyday Life, in the Journal of Happiness (springerlink.com), feeling good about the self and being excited, proud, sociable, and active among other things are strong predictors for happiness. "As an author and motivational speaker, my mission is to motivate people to change their lives for the better," says Corppetts. "What better way to start my campaign when I believe success begins with the individual than to be at a place where individuals are trained to be victorious!" Fort Jackson is the largest and most active Initial Entry Training Center in the U.S. Army (http://www.jackson.army.mil).
Take Charge for Major Success is a guide to living a better life with themes and exercises that include self-awareness, decision-making, goal-setting, overcoming fear and effective communication. "What I call the booby traps of life are opportunities to excel because I was trained that failure is not an option," says Corppetts. The book signing will be held at the Army & Air Force Exchange Service (AAFES) at Fort Jackson, South Carolina September 29 - October 1, 2011.
About:
Dr. Yvonne Corppetts is a professional speaker, educator, motivator and author of the self-help book Take Charge for Major Success. She is a member of the National Speakers Association and Global Speakers Federation, and she also served in the U.S. Army and the U.S. Air Force for twenty years. A former Commander with an extensive background in behavioral science, she has worked with a variety of individuals from different walks of life and backgrounds. She delivers inspiring presentations to diverse groups in business, education, healthcare, and military/veteran associations. Her presentations and writings include information on Search and Rescue and how to take your life back and Escape and Evasion techniques that help readers and audiences rise above mediocrity and minimize the impact of people and life situations that hinder well-being.
Corppetts has written several articles on personal growth and professional development for a variety of publications. She holds a PhD in Education from Capella University as well as degrees in social work and sociology.
Dr. Yvonne Corppetts can be found online at http://www.dryvonnecorppetts.com.
Book purchasing information, press inquiries and appearance requests should be directed to info(at)dryvonnecorppetts(dot)com or by calling (803) 727-0344.
LinkedIn: http://www.linkedin.com/pub/yvonne-corppetts/36/1b3/619
Twitter: http://twitter.com/Dr_Corppetts
# # #