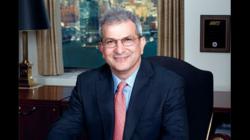 He has the vision and experience to further Stevens' position as a global leader in education, research and innovation.
Hoboken, NJ (PRWEB) September 27, 2011
Stevens Institute of Technology announces a weekend of events to commemorate the Inauguration of Dr. Nariman Farvardin, seventh president of Stevens, to be held October 13-15, 2011.
Since 1870, Stevens has educated and inspired students and researchers to lead and advance scientific discovery in the creation, application and management of technology to solve complex problems and build new enterprises. This proud legacy of the Stevens family will begin a historic new chapter this October as Dr. Farvardin, who officially joined Stevens on July 1, is inaugurated as president of the University. To commemorate this significant moment in Stevens history, the University invites alumni, family, and friends to join the community to take part in this special celebration.
The Inauguration will launch an important period for the University as Dr. Farvardin works closely with all members of the community to chart the future trajectory of Stevens and begin work towards a bold new vision that honors the University's long and exceptional legacy. Each of the inaugural events is designed for the community to come together and celebrate, converse, and interact with Dr. Farvardin, our distinguished guest speakers, and industry leaders including U.S. Secretary of Energy, The Honorable Dr. Steven Chu and Executive Vice President of Alcatel-Lucent and President of Bell Labs and Corporate Strategy Dr. Jeong Kim.
Stevens is also honored to welcome Kim Guadagno, Lieutenant Governor of New Jersey, who will be in attendance for the Inauguration events.
Prior to joining Stevens, Dr. Farvardin served as Provost at the University of Maryland. There he was the chief academic officer, overseeing 13 academic colleges and schools offering 127 undergraduate majors and 112 degree programs to more than 37,000 students from 3,000 full-time faculty members and nearly 1,000 part-time faculty. Prior to becoming Provost, Dr. Farvardin served as Dean of the University of Maryland's A. James Clark School of Engineering, and before that, Chair of the Department of Electrical and Computer Engineering. He was also a Professor of Electrical and Computer Engineering.
"We are very pleased to officially welcome Dr. Farvardin and his family to the community," says Lawrence Babbio, Chairman of the Board of Trustees of Stevens. "He has the vision and experience to further Stevens' position as a global leader in education, research and innovation."
In conjunction with Inauguration Weekend, the University will also be hosting Freshman Parents Weekend and Homecoming. Freshman Parents Weekend gives parents a chance to see their children settled into the Stevens environment, participate in campus events, and learn more about how the Stevens community supports their students. Homecoming 2011 will feature eight different Ducks teams in action as well as a variety of other exciting events for alumni, students, staff, faculty, parents, fans, and friends of Stevens Athletics.
Please visit the Inauguration website for complete details about the weekend's events.
About Stevens Institute of Technology
Founded in 1870, Stevens Institute of Technology, The Innovation University™, lives at the intersection of industry, academics and research. The University's students, faculty and partners leverage their collective real-world experience and culture of innovation, research and entrepreneurship to confront global challenges in engineering, science, systems and technology management.
Based in Hoboken, N.J. and with a location in Washington, D.C., Stevens offers baccalaureate, master's, certificates and doctoral degrees in engineering, the sciences and management, in addition to baccalaureate degrees in business and liberal arts. Stevens has been recognized by both the US Department of Defense and the Department of Homeland Security as a National Center of Excellence in the areas of systems engineering and port security research. The University has a total enrollment of more than 2,350 undergraduate and 3,600 graduate students with almost 450 faculty. Stevens' graduate programs have attracted international participation from China, India, Southeast Asia, Europe and Latin America as well as strategic partnerships with industry leaders, governments and other universities around the world. Additional information may be obtained at http://www.stevens.edu and http://www.stevens.edu/news.
###