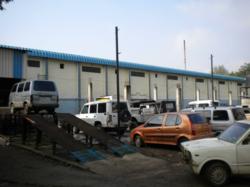 The program will give students a chance to gain expertise in the automobile industry, where the types of jobs recommended by the World Bank – jobs that require skill and that will provide a future to these youth and their families.
Ranjangaon, India (PRWEB) September 27, 2011
A new partnership between Fiat and the Salesian Don Bosco Technical Institute in India will fulfill two essential needs for the South Asian economy – job training for at-risk youth and skilled workers for the auto industry.
The program launched a few weeks before the World Bank reported one million additional jobs will be needed each month for the next 20 years to sustain growth and reduce poverty in South Asia – equivalent to a 40% increase in the global labor force.
In its Sept. 23 report "More and Better Jobs in South Asia," The World Bank notes that the region will be the largest contributor to the global workforce over the next two decades and states that reforms will have to be accelerated if the region is going to meet the challenges of providing better jobs for its workforce.
"South Asia's key asset is its people. It has a young population and the second lowest female participation rate in the labor force. The demographic transition will result in more than 350 million people entering the working age population over the next two decades," says Isabel Guerrero, World Bank South Asia vice president. "Creating jobs for them will contribute to growth, equity, and peace in the region."
According to the report, South Asia created nearly 800,000 jobs per month between 2000 and 2010 but the region remains home to the largest number of the world's poor—half a billion people. The World Bank defines South Asia as Afghanistan, Bangladesh, Bhutan, India, Maldives, Nepal, Pakistan and Sri Lanka.
The report also highlights that education is the key to labor mobility.
"It's not only the quantity of jobs but the quality of the jobs being created in the region that is relevant," says Kalpana Kochhar, chief economist for the World Bank's South Asia Region.
In addition to a region-wide view, the report recommends reforms for individual countries. One recommendation for India, Nepal and Sri Lanka is to realize that any actions to encourage job creation in the formal economy must also include programs for formal and informal sector workers so that they build a future for themselves through increased earnings potential. The report concludes that "building incrementally on existing schemes is likely the best way forward."
The new "Diksha" program aims to do just that -- by providing vocational training and on-the-job experience for at-risk youth at the Fiat automobile factory in Ranjangaon, India (three hours from Mumbai). Fiat and Don Bosco Vyawasaik Prashikshan Kendra in Pune, developed the training partnership which will have accreditation from the National Council for Vocational Training in New Dehli.
"The Diksha educational program will give students a chance to gain expertise in the automobile industry, where the types of jobs are available that are being recommended in the World Bank report – jobs that require skill and that will provide a future to these youth and their families," says Father George Menamparampil, procurator at Don Bosco Technical Institute in New Delhi, India.
The program will include both a four-month and a two-year option. In addition, there will be a "train the trainer" component, so that teachers will be able to incorporate the latest engine technology into the school curriculum.
Father Menamparampil also explains that Ranjangaon is an industrial belt with a concentration of rapidly expanding automobile factories that will provide additional job opportunities. Some in the industry have predicted that with the pace of industrialization, there will be an acute shortage of skilled technicians by the year 2015.
"As India grows and changes, our vocational programs are growing and changing too. The Diksha program teaches our students to become experts in the automobile industry," says Father Menamparampil. "But we also have programs around India that focus on computer technology and mass media skills."
The Salesians are widely considered the globe's largest provider of technical and trade education -- with ore than 3,400 youth education and trade schools that provide hope and opportunity to nearly 3 million young men and women from 135 countries.
ABOUT SALESIAN MISSIONS
Salesian Missions is headquartered in New Rochelle, NY, and is part of the Don Bosco Network—a worldwide federation of Salesian NGOs. The mission of the U.S.-based nonprofit Catholic organization is to raise funds for international programs that serve youth and families in poor communities around the globe. The Salesian missionaries are made up of priests, brothers and sisters, as well as laypeople—all dedicated to caring for poor children in more than 130 countries and helping young people become self-sufficient by learning a trade that will help them gain employment. To date, more than 3 million youth have received services funded by Salesian Missions. These services and programs are provided to children regardless of race or religion. To date, more than 5 million Americans have contributed financially to this work. Salesian Missions is a is a registered 501(c)(3) nonprofit organization and all donations are tax deductible. For more information, go to http://www.SalesianMissions.org.
For more articles like this one: MissionNewswire.org
# # #