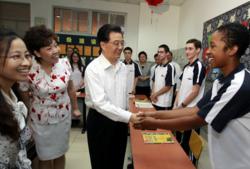 American Students Get a Surprise Visit from the President of China
Beijing, China (PRWEB) September 28, 2011
While most American High School students would not recognize a high level Chinese official, American students studying at Beijing's No. 80 High School were elated to have a guest pop in unexpectedly to their Chinese lesson. As part of China's Teacher's Day celebration, China's President Hu Jintao visited with students participating in the National Security Language Initiative for Youth (NSLI-Y), a program run by American Councils for International Education. For the NSLI-Y students - coming from areas all around the United States, including Minnesota, Iowa, and Massachusetts - President Hu's visit underscored the importance of cultural exchange between the U.S. and China.
One student recounted President Hu's hopes that "[the NSLI-Y students] can become friends with the Chinese students and return to the U.S. with a broader knowledge of Chinese culture." President Hu's visit imparted valuable insight to the NSLI-Y students about Chinese customs and culture surrounding leadership and respect. Another student observed that the visit "felt much like a music concert in which you rehearse for hours on end and then the show finally comes and all the pieces fall into place and it creates something beautiful."
With 305 students studying in the People's Republic of China and 658 participants worldwide, the NSLI-Y program awards American high school students and recent graduates merit-based scholarships to study Arabic, Chinese, Hindi, Korean, Persian, Russian, and Turkish abroad. Administered by American Councils for International Education, headquartered in Washington, DC, and sponsored by the U.S. Department of State's Bureau of Educational and Cultural Affairs, NSLI-Y aims to provide Americans students with the necessary linguistic skills and cultural knowledge to be leaders in a globalized world.
###