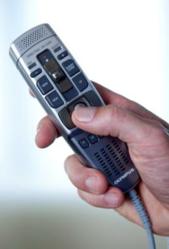 For busy yet savvy professionals, the Directrec is a 'must have' tool for efficient and technologically advanced digital dictation capability
Center Valley, PA (PRWEB) September 28, 2011
Olympus, a market leader for portable digital audio recorders and professional dictation devices, has announced the launch of its new Directrec® series, a major advance in professional dictation technology. This innovative product line was showcased during the company's recent 2011 Professional Audio Event (August 16-17), which brought together dealers from across the country to preview the new Directrec series, along with other Olympus products and brand initiatives. The new Directrec models, DR-1200, DR-2200, and DR-2300 bring an improved design and sophisticated level of dictation capability and efficiency to busy professionals in a range of industries, most notably the medical and legal fields.
With the new Directrec (DR) series, users will have expanded technological, 'power in the palm of their hand,' with additional, advanced features – all packaged in a stylish ergonomic design for stationary use with a laptop or desktop computer. New features include a strategically placed slide switch (DR-2200 and DR-2300) and push button (DR-1200) for easy, one-handed navigation and access to commonly-used functions; a high-sensitivity microphone that blocks unwanted background noises, guaranteeing ultra-clear dictation recordings; Furthermore, a trackball that functions as a computer mouse to facilitate manipulation of data.
For radiologists and other medical professionals, lab work with films and charts can be recorded more efficiently and quickly. The DR-2300 device also includes a barcode scanner attachment which enables automatic transmission of voice files to patient files, and allows for additional security of sensitive information. For a lawyer or legal secretary in a fast-paced law firm, the Directrec can provide faster recording of critical information from depositions, client meetings, and client briefs.
Attendees of the Professional Audio Event were introduced to the Directrec series – which became available in August - as well as a first-of-its-kind Professional Digital Dictation Portal, a new, dedicated website which provides product updates, tools, and resources to support certified Olympus dealers. The portal is expected to be fully operational in September.
The use of dictation devices has expanded significantly in recent decades as the technology has improved and many professionals recognize the value of these devices to increase work productivity, and save resources. Professionals in the medical and legal fields, including those in hospitals, doctor's offices, radiology labs and law firms are frequent users of digital dictation devices to help streamline their workflow, save time and money, and increase productivity. For Olympus, the introduction of the new Directrec series is consistent with the company's 40-year history of developing innovative, cutting-edge digital audio recorders.
"Olympus is proud to continue its tradition of developing high quality, professional dictation devices that enable medical and legal professionals to maximize their productivity," said Amy Leslie, Senior Product Manager, Olympus Imaging America, Inc. "For busy yet savvy professionals, the Directrec is a 'must have' tool for efficient and technologically advanced digital dictation capability."
The new Directrec series can be fully integrated with the existing IT structure of a medical practice, law firm or other business. In addition, it can be used with a speech recognition system that provides improved accuracy, to help avoid losing time while making corrections.
The DR-1200, DR-2200 and DR-2300 are now available exclusively at authorized Olympus Professional Dealers. For more information about the Directrec product series, please visit http://www.olympusamerica.com.
Journalists interested in more information, review units and high-resolution images of the Olympus Directrec series of products should contact Kim Riggie, LW Marketing, 239-405-8250, x2303, kr(at)lwmarketing(dot)com, or Jennifer Colucci, Olympus Imaging America Inc., 484-896-5719, jennifer.colucci(at)olympus(dot)com, or visit the Olympus website: http://www.getolympus.com.
ABOUT OLYMPUS IMAGING AMERICA INC.
Olympus Imaging America Inc. is a precision technology leader, designing and delivering award-winning products for consumer and professional markets.
Olympus Imaging America Inc. works collaboratively with its customers and its ultimate parent company, Olympus Corporation, to develop breakthrough technologies with revolutionary product design and functionality that enhance people's lives every day. These include:

Digital Cameras
Professional and Interchangeable Lens System Cameras
Related Underwater Products and Accessories
Digital and Microcassette Recorders
Digital Media
Binoculars
Olympus Imaging America Inc. is responsible for sales in the United States, Canada, Mexico, the Caribbean, and Central and South America. For more information, visit: http://www.olympusamerica.com.
*Specifications and design are subject to change without any notice or obligation on the part of the manufacturer. All trademarks and registered trademarks listed herein are the property of their respective holders, in the US and/or other countries.
© 2011 Olympus Imaging America Inc.
###