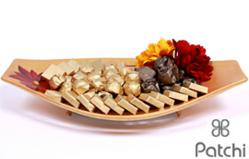 Santa Barbara, CA (PRWEB) September 28, 2011
With presence in some of the world's most diverse and cosmopolitan cities, Patchi often creates gift collections to suit various traditions and cultural celebrations. So it is no surprise that, as the Indian festival of Diwali approaches, Patchi would unveil a unique collection of gifts that will make this occasion a more memorable one for all involved.
Diwali is a special time for families and friends to present each other with gifts as a token of love and appreciation. It is also a time to celebrate luck and prosperity with gifts that are full of vibrant and golden colors.
Taking inspiration from those traditions, Patchi offers gift boxes and arrangements that will delight and captivate the senses. The signature boxes come filled with decadent chocolates wrapped in gold and silver foils. In addition, handmade gift plates and unique hatboxes abound with chocolates and other treats. All Patchi gifts come accented with either decorated chocolate favors or colorful ribbons and flowers. The special finishing touch on each gift is meant to bring out the passion and joy of this festival of lights.
The Diwali gift variety is priced between $ 20 for a ½ pound box and $200+ for a tray arrangement. The new collection is now available for purchase in North America at the company's online store.
About Patchi:
Established since 1974 and with presence in some major world cities such as London, Dubai, and Hong Kong, Patchi provides the utmost in chocolate luxury. Patchi offers a commitment to using only premium cocoa beans and nuts. No preservatives or additives are used. The company maintains a level of artisanship mixed with modern creativity that makes it a destination for gifting and celebrations.
###