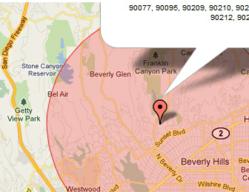 The graphic element to the zip code radius search tool is very cool. I can instantly see which cities are included in my search right there on the screen.
Las Vegas, NV (PRWEB) September 27, 2011
LeadFerret, the world's first 100% free B2B database with complete information, including email addresses, just became even more useful. Users can now enter a location, by zip code, then a radius from that zip code, in miles, and search for specific records within that geographic area. And, of course, like everything else at LeadFerret.com, the tool is 100% free.
LeadFerret, Inc. Co-Founder Forest Cassidy explains: "The concept is simple, most people work from a specific physical location and in many cases they would like to find businesses and executives within a given distance from that location. We've made it very simple for anyone to do exactly that, and the tool is free for anyone to use."
The tools can be found in multiple locations throughout the site, allowing users to not only search for any company within a specified geographic area, but to further filter that search by company name, industry, company size, and many other data points.
This is the latest search tool launched by LeadFerret, further demonstrating their commitment to provide their users with features at no cost that are typically only found in pay-for-use services. LeadFerret plans to continue to not only offer 100% B2B data with complete information, including email addresses, but to also provide users with the most comprehensive set of search tools available.
Here are a couple of the locations you can currently search by zip code radius on Leadferret.com:
http://www.leadferret.com/search-Company.php
http://www.leadferret.com/search-Geography.php
About LeadFerret
LeadFerret, Inc offers a free online B2B database with complete data for millions of business contacts. It's 100% free, no gimmicks, no subscriptions, no need to upload your contacts to get contacts, etc., and every record is complete, including email address. LeadFerret.com was launched in BETA version on August 11th, 2011, and has seen rapid growth in a very short period of time.
Contact: Stela Cassidy
818-392-4303
scassidy(at)leadferret(dot)com
###