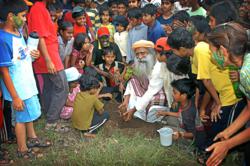 New York, NY (PRWEB) September 29, 2011
Sadhguru Jaggi Vasudev, a realized yogi, who was named one of India's 50 most influential people in 2010, has made it his mandate to raise human consciousness. According to Sadhguru, "Modern technology has a tremendous capacity for creating well-being, but it can also bring great destruction. It is therefore vital to raise human consciousness in the world. Even if one percent of the global population becomes meditative, then significant social changes will happen." He aims to ignite waves of consciousness so that the world's growing population can live in harmony with each other and the environment.
Great waves of action are already improving environmental conditions in South India. Thanks to Sadhguru's leadership, over a million people have contributed to a mass reforestation movement called Project GreenHands, which won a Guinness Book of World Records in 2006 for the largest number of trees planted in a single day. Sadhguru inspired hundreds of thousands of people to plant 852,587 trees in one day. Since that day, over ten million trees have been planted and 114 million trees will be planted by 2020. While many countries require multi-million dollar budgets to address reforestation, South India is getting back its green cover thanks to the sheer energy and will of its people. Project GreenHands was awarded the highest environmental award by the Government of India. The former President of India, Dr. Abdul Kalam, presented the Indira Gandhi Paryavaran Puraskar award to Project GreenHands in 2010. Project Greenhands has been accredited "Special Consultative Status" by the UN Economic and Social Council since 2007.
Raising human consciousness requires a global effort. Sadhguru teaches in many cities around the world. He visits the Los Angeles and New York metro areas in October and November to give his signature course, Inner Engineering. Participants will receive a 21-minute practice, which requires no previous yoga experience or physical agility. This practice purifies and rejuvenates the body and mind. Prior participants use it in the comfort of their own homes and find it effective in relieving chronic ailments, stress, addictions, and burnout. Inner Engineering has proven so beneficial that medical health practitioners now receive continuing education credits for attending the course.
To learn about online prerequisites for attending Sadhguru's live Inner Engineering course, go to http://www.innerengineering.com, for more information on Project Greenhands, go to http://www.projectgreenhands.org.
###