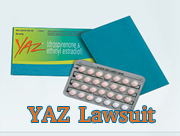 (PRWEB) September 28, 2011
According to Ennis & Ennis, P.A., on September 26, 2011, the U.S. Food and Drug Administration (FDA) released a Safety Communication reporting that it "remained concerned" about the potential increased risk of blood clots associated with the use of drospirenone-containing birth control pills. http://www.fda.gov/Drugs/DrugSafety/ucm273021.htm
Drospirenone is the synthetic progestin ingredient used in certain birth control pills such as Yaz, Yasmin, Safyal, Beyaz and Zarah (name brands) and Ocella (generic).
This communication followed a review of the preliminary results of a FDA-funded study involving 800,000 women, which revealed a 1.5-fold increase in the risk of blood clots, also known as venous thromboembolism (VTE), for women who use drospirenone-containing birth-control pill, compared to users of other hormonal contraceptives.
The FDA further noted, however, that there is conflicting information about the blood-clot risk possibly associated with drospirenone from six other published studies. Some of the other studies did not report any difference in VTE risk between drospirenone-containing products versus products containing other progestins. As a result, the FDA has not reached a final conclusion and has scheduled a joint meeting of the Reproductive Health Drugs Advisory Committee and the Drug Safety and Risk Management Advisory Committee on December 8, 2011.
Symptoms of blood clots include persistent leg pain, severe chest pain, or sudden shortness of breath.
Attorney David Ennis recommends that women who have taken drospirenone-containing birth control pills and experienced any of these symptoms should first immediately consult with their physician. Next, the patient should fill out a MedWatch Form at http://www.fda.gov. Lastly, patients should seek the opinion of an experienced lawyer to explore their legal rights.
Ennis & Ennis P.A. is offering free nationwide confidential consultations for patients who are taking or have taken drosepirenone-containing medications and suffer these symptoms by calling toll free 1-800-856-6405 or by going to http://www.ennislaw.com and completing an online case evaluation form.
Ennis & Ennis, P.A. is a nationwide law firm with offices in Ft. Lauderdale, Miami and Washington D.C. Ennis & Ennis, P.A. concentrates its practice in mass torts and represents individuals against pharmaceutical companies worldwide, as well as medical device makers.
Ennis & Ennis, P.A. has been representing clients individually since 1986 and has recovered over $100 million in settlements for its clients.
Ennis & Ennis, P.A. is also investigating cases involving, Accutane, Actos, Avandia, Fosamax, Paxil, Zoloft, Prozac, Depuy Hip Recall, Zimmer Hip Recall, Depakote, Reglan, SJS/Dilantin, Yaz, Yasmin, Ocella Birth Control Pills and transvaginal mesh devices.
Remember the law limits the time in which you can file a claim, so don't wait to explore your legal rights. Call today toll free 1-800-856-6405 or visit http://www.ennislaw.com.
###