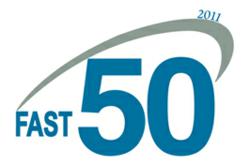 "Our commitment to customer service, a quality partner in Microsoft, and sound financial management have kept us strong through these difficult times."
- John Pence, President of Sunrise Technologies
Winston-Salem, NC (PRWEB) September 28, 2011
Sunrise Technologies, a Microsoft Partner with the Gold ERP Competency and Microsoft Dynamics AX reseller, has been named one of The Business Journal's 2011 Fast 50 winners. An awards ceremony was held Thursday, September 22nd, 2011 at North Carolina A&T State University.
To be eligible for the Fast 50, a company must have its U.S. headquarters the Triad, be a privately-held and for-profit venture, have earned $2 million in revenue in 2010, and have been in business for three full fiscal years. Accounting firm and Fast 50 sponsor, Smith Leonard, ranked the companies based on a combination of dollar and percentage growth. The Fast 50 collectively employ more than 15,500 people, more than 3500 of whom are located in the Triad, and make up more than $1.8 billion in revenues for 2010.
2011 celebrates Sunrise Technologies' fifth straight year on the Fast 50 list and the company's sixteenth consecutive year of growth. Sunrise was one of eleven technology providers, and was the only Microsoft Dynamics Partner recognized in the Fast 50. "We are pleased to once again be included in this prestigious list," states John Pence, President of Sunrise Technologies. "Our commitment to customer service, a quality partner in Microsoft, and sound financial management have kept us strong through these difficult times."
About Sunrise Technologies
Sunrise Technologies is a Microsoft Partner with the Gold ERP Competency. Sunrise specializes in the Microsoft Dynamics AX ERP solution for manufacturing, distribution, and retail, and is vertically focused on apparel, footwear, furniture, and CPG distribution. Sunrise Technologies is a global company with its corporate headquarters in the Piedmont Triad Research Park of Winston-Salem, North Carolina. Sunrise has regional offices in Dallas, Texas, Los Angeles, California, and Xi'an, China, as well as a Virtual Office at http://www.sunrise-ax.com. To learn more about Sunrise Technologies, please visit our Web site at http://www.sunriseconsult.com.
# # #