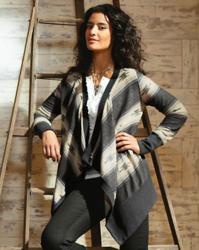 True Grit remains a timeless expression of creative freedom
(PRWEB) September 29, 2011
Multi-channel clothing retailer, Territory Ahead now proudly offers a collection of True Grit clothing. The assortment features distinct knit tops and sweaters, including the True Grit Abiquiu Jacquard Sweater – an easy-wearing blanket sweater featuring an authentic Americana blanket pattern and contemporary cardigan styling.
About True Grit
Established in 1990, True Grit is building its reputation as one of the premier American sportswear brands for men and women. True Grit was created in Newport Beach, CA by designers Bruce and Liz Bennett and is characterized by wearable styles with exquisite fabrics and washes combined with an Americana feel of the great outdoors. Their collection of luxury, contemporary clothing unites the style of a European sportswear collection with rugged yet refined designs to create apparel that is built to last.
About Territory Ahead
Territory Ahead began its journey in 1988 as a new kind of clothing company — offering personality through special fabrics; fine details; and easy, wearable designs.
Territory Ahead designs and develops men's clothing and women's clothing in-house, focusing on lifestyle rather than fashion trends. Through their direct mail catalogs, retail stores and website, they promote fun and adventure by blending compelling outdoor imagery, clever editorial and their own eclectic brand of clothing.
Wear to next? Territory Ahead recently released its delightfully different fall collection of rich fabrics featuring original details and a relaxed attitude.
###