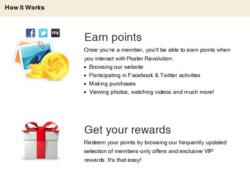 The Revolution Rewards program already has thousands of members
(PRWEB) September 29, 2011
Poster Revolution, one of the largest poster website s in the world, officially announced today a cutting-edge customer loyalty program called Revolution Rewards. This new program enables customers to earn rewards points through several different types of online social interactions, including making purchases, browsing the vast selection of artwork on the website, and sharing thoughts on posters via online social networks. Points can be redeemed for free products and other exclusive rewards.
Customers are able to track their reward points real-time while competitively ranking against other users. A leader board also allows customers to compete or connect with other Revolution Rewards participants.
"We are extremely excited to be one of the first companies to truly reward our customers using Facebook, Twitter, and other social media sites," said Adam Hersh, Chief Marketing Officer. "The Revolution Rewards program already has thousands of members from our beta launch and is growing faster than our most optimistic forecasts. Our customers are redeeming rewards for free products on a daily basis and we are thrilled by the program adoption."
Poster Revolution's website engagement rate has increase by 34% for program participants indicating a substantial increase in customer interaction with the products. During the pre-launch period several thousand members joined the program from 6 continents and 42 countries. Those members have already created over 1,000,000 social impressions through social media websites and by making website purchases.
The program is powered by CrowdTwist, a leading social loyalty and rewards platform funded by SoftBank Capital, Fairhaven Capital, kbs+p Ventures and Bertelsmann Digital Media Investments (BDMI).
About PosterRevolution.com
PosterRevolution is a leader in the wall art industry and is one of the largest online retailers and wholesalers of posters and art prints. Over the past 12 years, the founders of PosterRevolution have sold and shipped millions of items worldwide. PosterRevolution is based in New York City with an additional location in Kentucky. For further information, visit http://www.PosterRevolution.com
About CrowdTwist
CrowdTwist is a social loyalty and rewards platform that engages and activates a brand's audience wherever the brand is, both online and offline. Giving brands the ability to track, incentivize and reward customer engagement across any online, social or mobile channel, CrowdTwist grows audiences, strengthens engagement, monetizes users and increases online and offline sales conversions. CrowdTwist also empowers brands to identify their biggest cross-platform influencers and understand how an individual customer is interacting with their online, social and mobile properties. Founded in 2009 by Irving Fain, Josh Bowen and Mike Montero, CrowdTwist is based in New York City. For more information, visit http://www.crowdtwist.com.
###