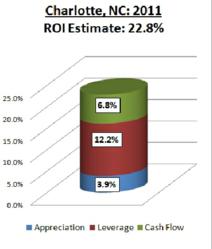 "Charlotte has seen good population growth in the last 10 years because of its favorable business environment and quality of life"
Irvine, CA (PRWEB) September 28, 2011
With healthy cash flows and population growth, Jason Hartman, creator of the Complete Solution for Real Estate Investors™, predicts that Charlotte, NC will experience a 22.8 percent return on investment in 2011. As the number two banking center in the United States, Charlotte was hard hit during the financial crisis; however, the city appears to have reached a bottom in 2010 with prices stabilizing through 2011.
Like many linear markets, Charlotte has lagged in its price appreciation during boom times. With healthy cash flows that allow investors to pay for their operating expenses and mortgage payments out of rent revenue, investors in Charlotte have the ability to wait for values to recover. By focusing on markets with attractive cash flow, this gives investors tremendous power to determine when selling benefits them most instead of backing themselves into a corner where they cannot afford to carry the negative cash flow on a property and must sell at a loss. Many investors fell into this trap during the financial collapse as they focused on fast gains instead of legitimate economic fundamentals.
"Charlotte has seen good population growth in the last 10 years because of its favorable business environment and quality of life," said Jason Hartman. "Our models expect that these fundamentals will drive future income and value movements for the area as its economy recovers from the financial crisis and new areas of opportunity emerge."
The principal advantage of following a strategy that focuses on sustainable income property investing is that negative cash flows will not need to be absorbed indefinitely while waiting for a market recovery. By seeking good buys in areas like Charlotte, with attractive rates of cash flow from day one, investors are positioned in such a way that market cycles do not need to be timed perfectly in order to generate profits.
During the first 6 months of 2011, North Carolina foreclosures dropped 33 percent from the second half of 2010 and 24 percent below the level reported for the first half of last year, according to the Midyear 2011 Foreclosure Market Report just released by RealtyTrac. North Carolina accounted for just over 1 percent of the 1,170,402 properties with foreclosure filings reported nationwide for the first half of 2011. Total U.S. activity decreased 25 percent from the second half of 2010, and was down 29 percent from the level reported for the first half of 2010.
Hartman's Forecast Methodology
The ROI predictions for each individual market are based on three fundamental components, as income property, unlike other investments, is a multi-dimensional asset class. The first is component appreciation, which is based on a composite of forecasts from CNN Money, Fortune and Hartman's innovative Regression to Replacement Cost™ methodology. The second impact is leverage. The reason why Jason Hartman's methodology separates appreciation from leverage is to pinpoint how much value is coming from the asset itself and how much is coming from the impact of leveraged financing to purchase the asset. The final component of the ROI predictions is cash flow where income property can be compared to bonds and dividend-paying stocks.
Hartman's model is the only one of its kind that includes a full ROI build. Most forecast reports begin and end their analysis with value appreciation or depreciation. Hartman and his team understand the full dynamics of return on investment and have chosen to build and report a complete ROI analysis for each of the targeted market areas.
About Jason Hartman
Jason Hartman, CRS, GRI, CSP, AIPIS, is America's foremost experts on long-term wealth creation through monetary policy and income property. He is the founder of Platinum Properties Investor Network, The Hartman Media Company, Open Door Auctions and The Jason Hartman Foundation. Jason is an accomplished entrepreneur, public speaker, media personality and author of 11 books.
Jason's Complete Solution for Real Estate Investors™ is a comprehensive system providing education, research, resources and technology for income property investment. His highly sought after educational events, speaking engagements and his acclaimed "Creating Wealth" radio show inspire and empower hundreds of thousands of people in 26 countries worldwide. For information, call 714-820-4200 or visit Jason Hartman online.
###