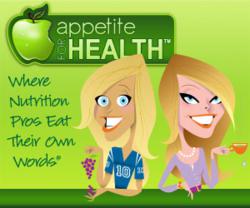 Fairfax, VA (PRWEB) September 29, 2011
Everyone knows the saying, "an apple a day keeps the doctor away", but it is important to know that a daily regimen that includes fruit and vegetables is a key to good nutrition. In our weekly "Appetite for Health" segment on NewsWatch, Registered Dietitian Julie Upton and Katherine Brooking share why eating fruits are important to a healthy diet.
As Katherine and Julie explained during the segment, the MyPlate graphic says that half of our plate needs to be filled with fruits and vegetables. An easy way to fulfill a daily fruit regimen is to eat dried fruits. International Scientists of the World Nut and Dried Fruit Congress agree that dried fruits and fresh fruits have equal health benefits. Dried fruits have the added benefit of being available year round, and they are also inexpensive and delicious. Many healthy and delicious fruit choices are dried fruits, plums, figs, and raisins. Consumers can even mix them with low-fat yogurt or add a fig spread on top of whole grain toast. A raisin or craisin couscous salad is always a great choice as well.
Fruits contain carbohydrates and a small amount of protein, but very little, if any, fat. Most fruits contain less than one gram of fat per serving. Calories in fruits come mostly from simple carbohydrates; that is, sugars such as fructose, sucrose and glucose. For more information, head to AppforHealth.com
Katherine Brooking is a Registered Dietitian with a Master's Degree in Nutrition Education from Columbia University. She is dedicated to helping people achieve better health and richer lives through sound nutrition and healthy lifestyles. She is a frequent nutrition contributor to top-tier national morning shows including the TODAY show, Live with Regis & Kelly, The Early Show on CBS, Good Morning America Health as well as on local affiliate stations across the country.
Katherine co-hosts The Victory Project, an original web series from the creators of Project Runway, in partnership with MSN. The Victory Project helps women across America look and feel their best through better nutrition, fitness, and beauty care. Katherine also co-hosts and co-produces a weekly nutrition and fitness segment series, Appetite for Health, on The Daily Buzz, a nationally syndicated news program. As a writer covering health and wellness topics, Katherine has contributed to SELF Magazine, Prevention, Cooking Light and Woman's Day and other leading news publications including The Washington Post and New York Daily News.
Julie Upton is a registered dietitian and communications expert specializing in nutrition, fitness and health. As a former New York City-based national spokesperson for the American Dietetic Association, Julie is interviewed in hundreds of magazine articles and is a frequent guest on national and local television and radio stations. She has appeared on the NBC Today Show, CBS Evening News, ABC World News Tonight, CNN Headline News, and Fox News Fox & Friends. She has also appeared on MTV, Access Hollywood, E! Entertainment News and Extra to provide expert commentary on Hollywood nutrition trends.
Julie has authored several professional book chapters, co-authored nutrition research and has just completed her first sports nutrition book, Energy to Burn: The Ultimate Food and Nutrition Guide to Fuel Your Active Life, co-authored by Jenna Bell-Wilson, Ph.D., RD.
NewsWatch is a weekly 30 minute consumer oriented television show that airs nationwide. NewsWatch regularly feature top celebrities, health tips, technology products, medical breakthroughs and entertainment news on the show. The show airs in 180 markets nationwide as well as all of the top 20 broadcast markets in the country, and is the preferred choice for Satellite Media Tour and Video News Release Distribution. For more information, head to newswatchtv.com
###