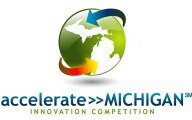 FamilyMint excited and honored to be selected as a semi-finalist in the Accelerate Michigan Innovation Competition among such a strong competition
Ann Arbor, MI (PRWEB) September 28, 2011
"FamilyMint is excited and honored to be selected as a semi-finalist in the Accelerate Michigan Innovation Competition among such a strong competition," said Bob Masterson, President and Co-founder of FamilyMint. 53 semi-finalists were selected to compete in nine different sectors from more than 300 entries around the country. FamilyMint was selected to compete in the Products and Services sector. To qualify for the Accelerate Michigan Innovation Competition prize monies, businesses must make a commitment to locate and grow in Michigan. These companies must also be past proof of concept and in the commercial stage of business development.
"The competition in each of the nine sectors is going to be fierce," said Skip Simms, senior vice president of Ann Arbor SPARK, "with thirteen of the 2010 semi-finalists returning to the competition."
The Accelerate Michigan Innovation Competition is an international business competition offering more than $1 million in cash awards, plus in-kind awards of services, staffing and software. The competition focuses on nine sectors that highlight key areas of opportunity for entrepreneurial growth and success: advanced materials, advanced transportation, alternative energy, IT, life science, medical devices, next generation manufacturing and products and services. The Accelerate Michigan Innovation Competition is a collaborative effort of the Business Accelerator Network for Southeast Michigan, the New Economy Initiative of Southeast Michigan and Accelerate Michigan.
FamilyMint is an award-winning online money management application that helps parents raise money-smart kids. The FamilyMint application is the modern replacement for the piggy bank. Kids 6 to 16 set financial goals, manage and track their money, and develop sound financial habits during their formative years. The parent acts as the banker and holds the money while FamilyMint acts both as a 3rd party guiding core savings habits and as a tracking system. FamilyMint simplifies parents' lives by automating allowance and allowing them to encourage their kids to save with motivating interest rates and matching deposits for worthwhile goals similar to a 401K.
FamilyMint is designed to be co-branded and sponsored by organizations such as credit unions, banks, and financial planners and others who are interested in promoting youth financial literacy in a whole new and dynamic way and wish to be in front of young families with kids.
According to Rose Evers, Marketing and Community Development Specialist, OUR CU, "FamilyMint provides parents with the tools to help their children develop positive saving habits, as well as grow into long term savers. It also indirectly teaches parents and guardians, as they watch their kids establish and reach goals. For this reason, we believe FamilyMint will help create long term, loyal members to OUR Credit Union."
###