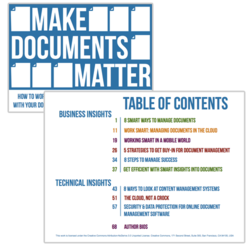 Raleigh, NC (PRWEB) September 29, 2011
Each day companies create thousands of budgets, invoices, presentations, proposals, and contracts. These files are central to business activities. So, document management must be a priority to ensure that document-led business processes are optimally efficient.
To help companies get started, KnowledgeTree has compiled a wealth of document management papers, visuals, and insights into a free eBook. The eBook answers questions like:

How do you choose an online document management tool?
How do you manage documents from Android, iPad, and iPhone mobile devices?
How do you review and approve documents to increase their quality?
How do analytics locate documents that matter and unlock stalled document processes?
How do you identify best practice content and surface it to colleagues?
"Document management plays a vital role in every professional's daily work," said Daniel Chalef, KnowledgeTree's CEO. "So, document management projects must be done right. With contributions from KnowledgeTree and other industry thought leaders, this eBook is a valuable resource to anyone that wants to make their document management project a success."
Download the eBook for free on KnowledgeTree.com.
Articles in the free eBook include:
8 Smart Ways to Manage Documents
This paper and infographic explores how teams can plan and implement a document management project. From conception to finalization, this section walks readers through the 8 steps that lead to a successful document management solution.
Work Smart: Managing Documents in the Cloud
For readers looking to understand the document management space, this paper provides a useful tutorial. Readers learn the key value of managing documents, and how to select the best solution for their organization.
Working Smart in a Mobile World
Teams are always on the move, but they still need to collaborate on documents. This paper explores the challenges of working remotely and how document management should be configured to address them.
5 Strategies to Get Buy-In for Document Management
Readers now know that document management strategies reduce costs and increase efficiency. The next step is to demonstrate value to decision-makers. This paper explores how to build the business case for document management.
Get Efficient with Smart Insights into Documents
With thousands of documents under management, it's not always easy to find needed documents. Analytics provide an answer. This paper explores how actionable insight and social elements can help teams surface great content and stay in control of document-led processes.
8 Ways to Look at Content Management Systems
How do you find the right document or content management solution for your company? Here we break down the most important deciding factors.
The Cloud, Not a Crock
Still not sure what the cloud is all about? Read a more detailed view on what the cloud really is, how popular business-focused solutions leverage it, and what it means for readers.
Security and Data Protection for Online Document Management Software
This paper explores key security aspects that teams should consider when evaluating online document management solutions. It explores how SSL, folder permissions, user authentication (e.g. via LDAP and Single Sign-On) should be evaluated.
About KnowledgeTree
KnowledgeTree makes documents matter. Orbitz, Miramax, Alcatel / Genesys, Fuji Chemical, and hundreds of other companies use KnowledgeTree to drive productivity by working smarter with documents. KnowledgeTree helps legal, finance, HR, and sales teams easily develop and execute business processes around documents, and drive productivity and actionable insight. KnowledgeTree is headquartered in Raleigh, NC. Find out why Network World called KnowledgeTree one of the 10 SaaS companies to watch. Visit http://www.knowledgetree.com for more information and to download the complimentary eBook.
Tweetables
Free eBook from @knowledgetreesw makes document management productive for teams http://bit.ly/pcHMrd
Follow us at @knowledgetreesw
# # #