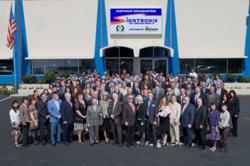 These managers are coming from our regional offices all across the country - from Boston, Tampa, Portland, and everywhere in between.
Torrance, CA (PRWEB) September 27, 2011
Signtronix, a national sign company that's been in business since 1959, is holding their annual Regional Manager's meeting at their Torrance, California headquarters this week. This is the first time since 2007 that the meeting will be back at its headquarters as it traditionally has been the 30 years prior.
"We are excited to have over 40 Signtronix regional managers come in for this week's meeting," said Tom Johnson, President of Signtronix. "These managers are coming from our regional offices all across the country - from Boston, Tampa, Portland, and everywhere in between."
"The meeting lasts for 3 days in which time we discuss many topics including next year goals, customer service enhancements, product development, growth strategy, plus much, much more. It's a great time for all the managers to see each other again and get caught up. Many of these managers have been with Signtronix for over 20 years," said Johnson.
"Signtronix is the premiere national sign company that focuses on helping small business owners grow their business with signage," said Tom Johnson Jr., Director of Marketing for Signtronix. "We hold these regional manager meetings in order to develop new and innovative ways to help the small business market become seen in their communities. Too many business owners assume that people know about them already, but they would be shocked to learn just how few people really do know who they are and what they do without the right signage."
Signtronix is excited to have its regional managers back to the home office for this meeting. We look forward to a very productitive and inspiring time together.
About Signtronix
Signtronix (http://www.signtronix.com) is the premiere sign manufacturer for small businesses across the United States. The company was founded in 1959 and has helped hundreds of thousands of small businesses in its 50 year history. Signtronix offers many different sign products from outdoor electric signs, LED messages signs and indoor and window signs to help America's small businesses get the exposure they need to their passing public and potential customers. Signtronix is proud to be an ESOP (employee stock ownership plan) company which is owned and operated by its employees. If you wish to view Signtronix on Facebook then visit http://www.facebook.com/signtronix or you can join us on Twitter at http://www.twitter.com/signtronix.
To learn more about Signtronix please contact Tom Johnson Jr. at trj2(at)signtronix(dot)com.
###