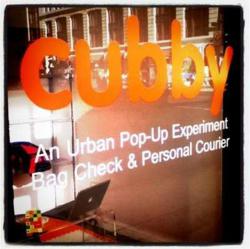 "People in New York City are constantly being dragged down by their stuff," - Paul Harrison, Co-Founder, Cubby.
New York, New York (PRWEB) September 28, 2011
Cubby, a one-of-a-kind personal urban logistics start-up, has just opened its first pop-up location on 303 Park Avenue South in Manhattan, providing New York City residents, shoppers and visitors with a way to safely and conveniently get around the city without the hassle of schlepping their stuff all over town.
Cubby grew from a simple idea: co-founder Shaun So and his wife, who are North Brooklyn residents, were lugging three bags around Manhattan one fall night. They simply wanted a safe, and reliable place to store them for a few hours while they enjoyed their evening with friends, and realized there was nothing out there in New York to solve their problem – they used services like this in Europe, but there's nothing to be found in New York. Shaun teamed up with Paul Harrison, who he met at the Zicklin School of Business at Baruch College, to create Cubby, and solve that very problem.
"People in New York City are constantly being dragged down by their stuff," said Paul, co-founder, Cubby. "We're finally providing people with an option other than 'carry it all yourself.'"
Cubby charges $5.00 to hold a backpack-sized bag and $8.00 to hold bags larger than a carry-on sized piece of luggage for each 24 hour period. If customers can't find the time to make it back to pick up their things, they can call Cubby and a Cubby courier will deliver their things directly to them – rain or shine.
Cubby charges $10.00 to deliver as many items as a customer can fit into their bicycle-hitched trailers. Cubby customers can call the pop-up store with their claim ticket number, and a courier will be on their way. For extra large items, or bags that need to get to outer boroughs, Cubby has partnered with a luxury New York car service to get customer's bags to them, wherever they need it, for an additional charge.
Cubby also concurrently released an iPhone and Android mobile application to make it even easier for people to unload their extra belongings. Mobile customers can make a reservation ahead of time, and pay a dollar less per bag.
The pop-up store, located at 303 Park Avenue South, opened on September 16th, 2011, until October 31st, 2011, from 8am-12am, daily.
About Cubby
Cubby is an urban personal logistics company that specializes in securing and couriering people's extra belongings. They provide luggage storage and bike courier services all connected via mobile application technology. Cubby uses this mobile technology alongside a trusted brand image to make urban travel simple, affordable and safe.
Visit the Cubby webpage – http://www.gocubby.com
Follow Cubby on Twitter - @gocubby
Follow Cubby on Facebook - facebook.com/pages/Cubby/109769855754675
Follow the Cubby Blog - gocubby.com/blog
###