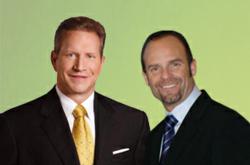 Atlanta, GA (PRWEB) September 29, 2011
2011 has been a busy year for world renowned Urogynecologists Dr. John R. Miklos and Dr. Robert D. Moore as they have traveled to New Zealand, Australia, Russia, Austria, Puerto Rico and Canada as guest surgeons and lecturers for organizations such as AGES, The World Academy of Cosmetic Surgery, AAGL, AMS and the International Congress on New Technologies for Diagnosis and Treatment of Gynecologic Diseases. The world tour now takes them across the country to Las Vegas, NV where Dr. Miklos and Dr. Moore continue to successfully contribute as pioneers to the International Society of Cosmetogynecology.
Both Dr. Miklos and Dr. Moore are two world leaders in aesthetic vaginal surgery and have been selected as keynote speakers and Scientific Program Chairpersons at the World Congress on Female and Male Cosmetic Genital surgery meeting being held at The Venetian Hotel, September 29-30 and October 1st. Their expertise will be shared with attendees that include gynecologists, urologists, urogynecologists, cosmetic and plastic surgeons.
Dr. Miklos will discuss the surgical planning and techniques for women requiring anatomical restoration of pelvic floor defects and vaginal rejuvenation. The topic of discussion and the basis of the lecture is timely considering the rapid increase in the number of patients requesting information on and undergoing vaginal rejuvenation. All too often inexperienced aesthetic surgeons will attempt to perform vaginal rejuvenation (i.e. vaginal tightening) with complete disregard for the normal anatomic positioning of the vagina. A failure to address normal positioning could potentially lead to a shortened vagina and permanent painful intercourse. Dr. Miklos is an international pioneer in the laparoscopic approach to vaginal reconstructive surgery and is the senior author on the world's largest series of the "gold standard" procedure laparoscopic sacral colpopexy. It is the merger of the disciplines of urogynecology, reconstructive and aesthetic vaginal surgery which potentially allows for the best anatomic and functional outcomes for patients requesting vaginal rejuvenation.
Dr. Moore is lecturing on the latest research and data regarding the science behind vaginal rejuvenation surgery and the improvement in sexual function following repair. Dr. Moore will present the latest data supporting the procedures, how to prevent complications as well as present his and Dr. Miklos' latest scientific study, which is the first study in the world to use, validated sexual function questionnaires. Dr. Moore will also discuss and review surgical techniques that are used during the Laparoscopic Neovagina procedure of which he is also an international pioneer in. This is a procedure that creates a vagina for young women that are born without them called MRKH or Vaginal Agenesis. Traditional surgery for this condition is very invasive and risky, however the laparoscopic approach is much less so. Most surgeons will only perform 1-2 Neovagina procedures in a lifetime, however Dr. Moore and Dr. Miklos have performed 13 Neovagina surgeries since 2010.
Drs. Miklos and Moore not only trained as gynecologists but both surgeons have trained an extra 4 years doing two fellowships in Urogynecology & Reconstructive Vaginal Surgery (2 years) as well as Minimally Invasive Reconstructive Vaginal Surgery (2 years). They have spent an extra 4 years dedicated to vaginal reconstructive surgery and have been in practice together for 10 years, making their center in Atlanta, GA a desired facility where patients travel from around the country and the world seeking their surgical care.
Dr. Miklos and Moore's accomplishments are well recognized by their peers and individually they both will be honored in Las Vegas as the recipients of the 2011 International Society of Cosmetogynecology Award for Teaching.
###