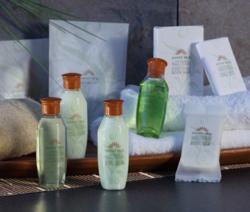 Our customers have shown tremendous interest in the Sister Sky brand and products
Spokane, WA and Cortland, NY (PRWEB) September 30, 2011
This new partnership will provide Sister Sky with access to a broader network of distributors, by utilizing Marietta Corporation's proven hotel amenity manufacturing and distribution capabilities. In turn, Sister Sky expands Marietta's distribution to include Indian Gaming properties in the United States and Canada.
The Sister Sky amenity collection is a natural fit for both Indian Gaming Hotels and traditional hotel properties. A combination of a trusted, industry-wide respected brand and the incorporation of Native American herbal wisdom, provide a unique product offering and experience for hotel guests.
"Our customers have shown tremendous interest in the Sister Sky brand and products", says Director of Brand Marketing & Communications at Marietta Corp, Vincent Panzanella. "The distinct blending of Native American, herbal wisdom and clear brand positioning, have combined to offer a truly striking amenity program."
"My sister and I are extremely excited about this new partnership, as it has opened doors which we were knocking on for some time", says Marina TurningRobe. "Marietta's great reputation and know-how has rapidly exposed our products to national and international properties."
Sisters Marina TurningRobe and Monica Simeon originally set out to create a remedy for Monica's son who suffered from eczema. After Monica had no success in easing his symptoms with repeated visits to dermatologists and physicians, the sisters began to experiment with lotions and herbs they had learned about as children. Borrowing from traditional wisdom, and consulting with herbalists and traditional healers, the sisters created a product line based on the power of natural ingredients.
"We began producing personal care products with a mission to create something based on herbal wisdom, from the Native American culture which was focused on natural and sustainable principles."
About Sister Sky
Sister Sky is a personal care product brand started in 1999 by sisters, best friends and business partners, Marina TurningRobe and Monica Simeon, with a mission to create natural products inspired by the herbal wisdom of their Native American culture. Honoring these traditions, the sisters formulate their products with a guiding principle: infuse botanical ingredients to enhance health and wellness. Sister Sky products share Native American herbal wisdom in an authentic and respectful manner which promotes harmony, balance, education, sustainability and cultural sharing.
Sister Sky is the only personal care product line approved by the Intertribal Agriculture Council to use the "Made by American Indians" trademark and is MBE Certified through the NMSDC.
About Marietta Corporation
Marietta Corporation is the USA-based innovative leader in personal care guest amenities, building partnerships with leading hotel groups and independent properties for more than 30 years. They offer a broad selection of signature & licensed brand-name products from mass market to specialty and readily available in-stock programs. Marietta's portfolio of licensed brand partners are sure to satisfy every hotel need from economy to luxury, from salon brands to green brands, from trusted and established brands to specialty-niche brands. For more information visit: http://www.mariettahospitality.com
# # #