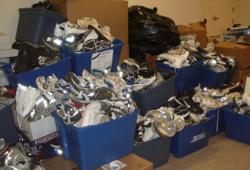 Oak Brook, IL (PRWEB) September 28, 2011
AthletiCo Physical and Occupational Therapy, a Midwest-based provider of rehabilitation services with over 55 facilities, will be holding its 6th Annual Shoe Drive at each of its facilities from Monday, October 3 through Saturday, October 15 to collect new and gently used shoes. The shoes will be donated to Share Your Soles, a local non-profit organization that distributes shoes to impoverished and underprivileged communities in the United States and around the world.
Share Your Soles recognizes the importance of maintaining the dignity and self-respect of the individuals receiving these shoes. To the recipients, these shoes symbolize more than just a piece of footwear; they serve as a mode of transportation (as cars and bikes are not readily available) as well as a form of health insurance (because they prevent bare feet from exposure to diseases). Share Your Soles accepts all shoes but is especially in need of children's shoes, including cleats and other sport-specific shoes. Shoes that are lightly worn and clean are preferred.
AthletiCo is a supporting sponsor of the Bank of America Chicago Marathon and has provided physical therapy, massage therapy, and athletic training coverage to organizations such as XXX Racing, Chicago Endurance Sports, and Team in Training, as well as numerous Chicagoland endurance events including the Life Time Chicago Triathlon and the XSport Fitness Rock 'n' Roll Chicago Half-Marathon. AthletiCo has endurance specialists at each of its facilities including runners, cyclists, and triathletes with advanced knowledge to treat the needs of endurance athletes regardless of competitive level and interest.
For more information on AthletiCo's Shoe Drive or to find a location near you, please call 630.575.6200 or visit http://www.athletico.com.
ABOUT ATHLETICO
AthletiCo Physical and Occupational Therapy provides orthopedic rehabilitation services to communities and organizations throughout Illinois, Milwaukee, and Northwest Indiana. To demonstrate our commitment to both our patients and referring physicians, we measure functional patient outcomes and patient satisfaction with national data comparison using a third-party outcomes system.
Our services include physical and occupational/hand therapy, work rehabilitation, performing arts rehabilitation, women's health therapy, spine control, pediatric physical therapy, vestibular rehabilitation, and athletic training. Expanded services include performance enhancement, fitness center memberships, golf fitness, endurance, nutrition, and massage therapy.
AthletiCo accepts all indemnity, PPO, POS, and WC plans including BC/BS, Humana, Medicare, Aetna (PPO/HMO), PHCS, UHC (PPO.HMO) and many others. As a courtesy to our patients, we verify insurance coverage.
AthletiCo Toll-Free Injury Hotline
(877-ATHLETICO 1-877-284-5384)
http://www.athletico.com
# # #