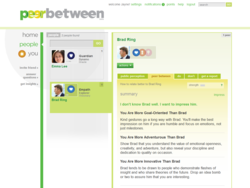 Compare two unique personalities to impress, guide, stand out, or strengthen any relationship
Palo Alto, CA (PRWEB) September 29, 2011
Peerbetween today announced the public launch of its social utility at http://www.peerbetween.com. Peerbetween tells anyone what people think of them, and gives customized advice to relate better to anyone - based on the differences between two unique people. Formed by a team of online game veterans and a Stanford PhD neuroscientist, Peerbetween is part personality test, part social network, and part game.
"Knowing what people think of you is really powerful," says John Young, CEO and founder of the company. "Peerbetween delivers the wisdom of crowds about anyone's personality, and does it with respect and privacy. Peerbetween employs the most academically-trusted model of personality, and has been designed from the ground up so that no one can say anything negative about anyone else. It has wonderful predictive accuracy without secrecy concerns."
Peerbetween's patent-pending personality system ranks anyone into one of 15,000 unique personality combinations. When two or more people answer questions about a user, that person's public perception becomes viewable. Who said what is always secret. Users can choose to strengthen a friendship, impress an acquaintance, guide someone in the workplace, or stand out in the eyes of the boss. 900 million unique combinations are possible, making Peerbetween's recommendations incredibly customized and insightful. A 50-second video about how it works is available at http://www.youtube.com/watch?v=05dQChDRj48.
"The potential viral factor of peerbetween is huge," says John Romero, famed game designer, co-founder of Loot Drop, lead designer behind the hit social game Ravenwood Fair, and adviser to the company. "Peerbetween is easy, fun, and really unlocks something valuable that many people will want to know."
"In my 30 years of executive coaching and administering personality assessments, I've never seen anything like this," says Roy J. Blitzer, Executive Coach and founder of RJB Consulting, and adviser to the company. "It enables the power of multi-rater feedback, the insights of leading personality models, and the unique power to give practical advice to interactions between two people."
Here's what early users are saying about Peerbetween:
"I like how it tells me what I should definitely not do around someone – that's really useful and impactful." Brad R.
"I have really enjoyed Peerbetween. It has given me some insight to my personality and taught me more about myself. Two thumbs up!" Chris D.
"Signed up and answered the questions, this thing is pretty much spot on. Great stuff!" Zachery T.
Free accounts can be created today at http://www.peerbetween.com.
About Peerbetween
Peerbetween is a Palo Alto based company that wants to give everyone an advantage with other people. The company strives to reduce misunderstanding and increase the efficiency of personal interactions by harnessing crowdsourced personality modeling. The company's flagship product (http://www.peerbetween.com) is a free personality assessment that empowers anyone to strengthen relationships, impress and guide people, stand out in the eyes of a boss, discover hidden strengths, and learn what people think about anyone.
###