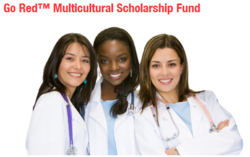 Philadelphia, PA (PRWEB) September 28, 2011
As part of the Multicultural Fund, Macy's and Go Red™ developed the Multicultural Scholarship Program with the goal of increasing the number of minority women in the healthcare profession. This year, the Go Red™ Multicultural Scholarship Fund will award 16 scholarships of $2,500 each ($40,000 total) to qualifying applicants.
To qualify, women must be of Hispanic, African-American, Asian/Pacific Islander or American Indian/Alaskan Native heritage. They must also U.S. citizen/permanent resident of the U.S., be attending an accredited college or university in the U.S. and currently in her freshman or sophomore year. Finally, they must be pursuing a career in healthcare with a minimum 3.0 cumulative GPA. Women apply through the online scholarship software.
Once applications are in, a review committee will use the online WizeHive review portal to select finalists based on criteria including academic achievement, community involvement, letters of recommendation and a personal essay.
Research shows that numerous ethnic groups — including African-Americans and Hispanics — are disproportionately affected by cardiovascular disease and risk factors, confront barriers to diagnosis and care, and experience worse health outcomes than their Caucasian counterparts. The Go Red™ Multicultural Scholarship directly addresses important gaps in treatment that can lead to heart health disparities among minority women.
"Ethnically diverse women are needed in the healthcare field," says Eva Gómez R.N., Go Red Por Tu Corazón spokesperson and Staff Development Specialist in the Department of Nursing at Children's Hospital Boston. " They can have a very positive impact on the delivery of health care services to diverse populations because they understand their communities and they know how to provide care that is meaningful, appropriate and sensitive to their needs."
About WizeHive
WizeHive offers a cloud-based platform that automates an organizations forms, workflows and business processes. These tools have been used to automate contests with WizeHive's Online Contest Software; scholarships with WizeHive's Scholarship Management Software; sales processes and more.
About the Go Red™ Multicultural Scholarship Fund
The American Heart Association's Go Red™ Multicultural Scholarship Fund is sponsored by Macy's, national sponsor of Go Red For Women and Go Red Por Tu Corazón. Macy's cares about the heart health of all women and created the Go Red Macy's Multicultural Fund to support the efforts of the American Heart Association to reach women of diverse backgrounds with heart-health information and resources.
Media contact :
Jeff Thomas
2152598299
Jeff(at)wizehive(dot)com
###