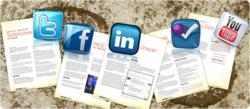 Our power packed social media ebook explores how exhibitors can leverage social media channels to boost brand exposure, engage prospects and maximize impact that will lead to future sales opportunities. - Gwen Parsons, SVP of Marketing, Nomadic Display
Springfield, Virginia (PRWEB) September 29, 2011
Nomadic Display, a leading producer of top-of-the-line custom modular trade show displays and portable exhibits, releases this year's "Must Have" step-by-step guide to harnessing the power of social media to promote live events.
Nomadic's special ebook educates exhibitors on the tremendous value that social media can bring to the trade show and events space.
Savvy marketers now more that ever are using social media to enliven their brand on the show floor, entice their audience to take immediate action and influence future purchasing decisions. Nomadic Display's information packed guide provides a comprehensive look at: how various social media applications can accelerate live event performance, top tips for boosting booth traffic, strategic methods for building your social network and more.
Both social media veterans and newbies alike will appreciate this all inclusive ebook that targets traditional marketing efforts and how to streamline them with social media to maximize results. Event Marketers can begin reaping the rewards of increased brand exposure by downloading Tune In, Turn On And Take Off With Social Media For Trade Shows And Events.
###