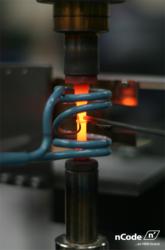 "This unique combination of software and services for CAE simulation and materials testing for thermo-mechanical fatigue illustrates the clear leadership position nCode has in the durability market."
(PRWEB) September 28, 2011
nCode, the leading brand of durability, test and analysis products offered by HBM, announced today that new solutions for thermo-mechanical fatigue calculations will be available in the next release of nCode DesignLife software. This enables a wide range of high temperature durability simulations and will be available at the release of nCode version 8.
nCode DesignLife uses stress and temperature results from industry-standard finite element software and provides CAE durability simulation to estimate component life in these extreme operating conditions. Building upon previous projects with industry partners investigating available thermo-mechanical fatigue (TMF) methods, this commercial software implementation in nCode DesignLife 8 will provide cost-effective tools that can be used to solve real-world design problems.
"An important consideration for the selection of technology for thermo-mechanical fatigue was the availability and practicality of the required materials tests," commented Dr. Andrew Halfpenny, Chief Technologist for nCode software. "These new methods can use standard and relatively inexpensive constant temperature fatigue and creep tests. We have also focused on optimizing the numerical methods to ensure rapid analysis time and accuracy for life prediction."
Components in high temperature operating environments such as engine manifolds, pistons and exhaust systems can suffer from complex failure modes. At temperatures above 30% of the melting point, the steels and alloys used in these cases can "creep", causing a progressive stretching (increasing strain) of the component under constant load. Other complicating effects include the oxidation of the metal, which also affects the operational strength of the material.
The implemented methods include the Larson-Miller creep model and Chaboche methods for creep and fatigue, and also combined creep-fatigue interaction. The required materials data can be provided through a Materials Testing service available from HBM-nCode at their ISO9001 certified laboratory in Derbyshire, UK. "This unique combination of software and services for CAE simulation and materials testing for thermo-mechanical fatigue illustrates the clear leadership position nCode has in the durability market," said Steve Tudberry, Vice-President of nCode products.
These new developments were unveiled at the September meeting of the Chrysler Durability Tech Club meeting, Auburn Hills, Michigan, USA. A free webinar will be presented on Wednesday, October 12, 2011 to show a preview of these new methods available in nCode DesignLife 8 to the public. For more information, see Webinars at http://www.hbm.com/ncode.
About HBM-nCode
nCode products are provided by HBM, a world-wide technology and market leader, offering products and services across the entire measurement spectrum, from virtual to physical. For over 25 years, nCode has been the leading brand for durability and data analysis solutions. Its technologies aid customers to understand product performance, accelerate product development and improve design. The power and ease of use of HBM technologies is a direct result of its world-class development process, expertise and in-depth experience of a broad range of industries. nCode product development is ISO9001 certified. Product support is available through HBM-nCode offices in Europe, North America and Asia. For more information, please visit http://www.hbm.com/ncode.
###