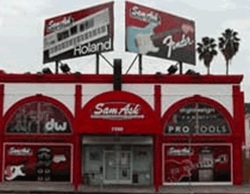 May our products help you access and express your deepest brilliance & inspiration. May your brilliance & inspiration, in turn, spread to the rest of the world!
Bellingham, WA (PRWEB) September 27, 2011
Sam Ash was founded in 1924, and is a privately owned chain of 48 stores in the United States (16 states). Every Sam Ash Music Store offers a complete selection of the latest musical equipment and accessories from the most famous manufacturers.
Sam Ash Hollywood is one of their two flagship brass and woodwind shops in the country along with 48th street New York. They carry new, used, and vintage horns, mouthpieces, accessories, and more boutique supplies than any other store. Sam Ash Hollywood is also in the process of greatly expanding their sax section.
Tom Wanne CEO, says, "Sam Ash is a wonderful company with great people and amazing stores. We started on the East coast, then loading up the wagons, and headed West. What is particularly exciting is their knowledge depth. It is truly a pleasure to work with people like Adam Turchin from the Hollywood branch who knows Theo's work since his Philly-days decades ago. I encourage everyone to visit their local Sam Ash store and ask about our revolutionary products."
Being the world's premiere mouthpiece manufacturer, Theo Wanne Classic Mouthpieces is attracting the world's top musicians, dealers and dristributors (like Sam Ash), as well as other companies looking for higher quality OEM products.
Theo Wanne Classic Mouthpieces has been growing over 100% a year since their first products in 2007. The company is legendary for revolutionary products that inspire musicians, and Theo Wanne is the eminant world expert on saxophone mouthpieces. You can learn more about Theo Wanne by watching their new company video, An Introduction to Theo Wanne Classic Mouthpieces.
###